I enjoyed the premiere of Ben-To a lot. But seriously, it's getting pretty absurd listening to old men like Shimono Hiro play 15 year-olds. Is the anime industry never going to cycle through the same six guys playing teenagers forever?

OP: オープニングテーマ「LIVE for LIFE 〜狼たちの夜〜」by Manami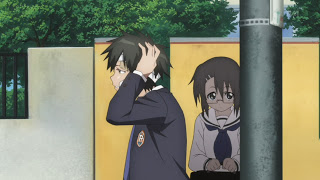 OK, rant over. As far as the show goes, very good first effort. About four miles from my house is a Japanese market, Suruki. Every night around 6:20 (sometimes 6:10, it can be tricky that way – and 5:20 on Sundays) a guy comes out with a red marker and puts a slash through all the bentos, packs of karaage and such, and sushi and sashimi. Half-off – half, I tell you! He always makes an announcement that violence won't be tolerated, but it never makes any difference. And let me tell you, elderly Japanese-American ladies have very sharp elbows. But fortunately, they tire easily.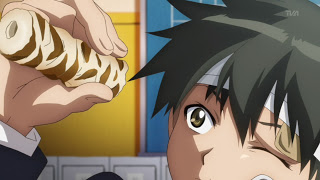 So as you can imagine, I identified pretty strongly with the idea behind this anime. It comes to us from David Productions, who did last winter's stellar Level E, and from director Itagaki Shin (Basquash, Black Cat. Only "B" series, Itagakik-sensei?) and is based on a LN series by Asaura. Once you surrender yourself to the concept, this is a very funny show, at least so far. The material had a nice edge to it, the direction was interesting, and it was a nice combination of violence, innocent fanservice and broad comedy. It's not going to win any Nobel prizes, but it's very entertaining.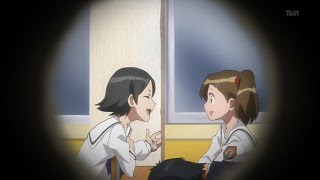 The schlub at the heart of things – as usual – is Hiro Shimono. This time he's playing a kid named Satou You, a first-year high-schooler with a minuscule food budget who naively thinks he can waltz into the soopa at closing time and snag half-priced natto with cheese topping (ewww). But this is the territory of the Ice Queen, Yarizui Sen (Ise Mariya), who savagely patrols the aisles and destroys all challengers in her path, including local bento hunters "The Wolves". The first try lands Satou in the hospital but he returns for another try with the help of megane-girl Hana Oshiroi (Aoi Yuki, great as always) who was the breakout character of the premiere for me. Also on-hand to dish out torture is Class President Siraume Ume (Kayano Ai) a sadistic terror who appears to be the Ice Queen's arch-rival. Fortunately Sen seems to take pity on Satou, and invites him to join the Half-Priced Bento Club – of which she is the sole member.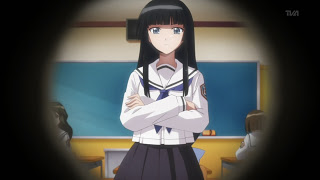 While some of the abuse was pretty clichéd and a bit over the top for my tastes and I'm getting pretty sick of Hiro-Hiro in these kinds of roles, the good far outweighed the bad there. David Productions appears to be a studio that has been a sense of style and a sharp sense of humor, and both are on display here. While much credit goes to the source material for Level E's success and I'm sure the same is true here, you can really sense that this is a studio that "gets it" when it comes to dark comedy. Like that show, this one has a retro look and sensibility to it, very impressive visually withoug being showy about it. I liked this premiere a lot, and it should provide a nice addition to what's shaping up as a good season for comedies. And that's a good thing because while the first three-quarters of 2011 were pretty good overall for anime, they weren't especially good for comedy.
ED: "Law of Smiles" エンディングテーマ「笑顔の法則」by Daffodil Spears