I'm sure a bigger Type-Moonie would find it painfully obvious from the start, but for me it's really becoming apparent that the servants in this drama are much more interesting than the masters.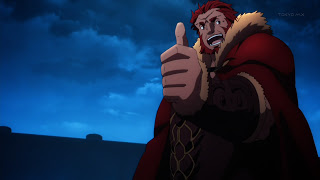 It says something about the pacing and direction of Fate/Zero that every episode feels as if lasts about five minutes. About the time I'm ready for the first eyecatch the preview is rolling. There's an awful lot going on here, no doubt about it – but when handled badly over-busy anime episodes can seem to last for hours and leave you nothing but confused and bored. Here, the avalanche of information and action is always coherent and enlightening.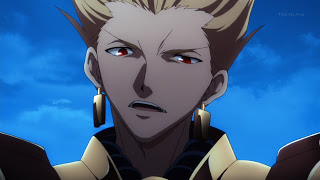 What was already apparent through process of elimination became official this week, as the last of the master-servant connections where established. The most interesting new addition to the brewing mêlée is Berserker (Okiayu Ryotaro). As expected he's paired with Kariya, absent since the premiere. I'm not crazy about the look of the scenes with Berserker as he's represented entirely in CGI, and these scenes look less fluid and natural than the rest of the series. Nevertheless he's an interesting character and seemingly a good fit for Kariya under the circumstances. His noble phantasm is apparently the ability to use anyone else's weapon as a noble phantasm, a useful skill that would appear to neutralize Gilgamesh almost entirely. By appearance I'm guessing he's the mythical Black Knight, which would make him quite a familiar foe for Saber if true. She doesn't seem to recognize him though, so I can't be sure.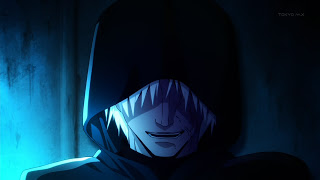 I'm still tempted by the notion of two separate camps among the servants, divided on the question of chivalry. Saber, Lancer, and Rider definitely have it, and Caster, Berserker and Assassin certainly do not. Indeed, we saw evidence of that as Rider specifically intervened to prevent Lancer from being forced by Kayneth to join forced with Berserker to kill Saber (too many pronouns). Of course the wild card in that scenario is Archer/Gilgamesh, working for Tokiomi. I'm not sure whether he has any chivalry in his nature or not, as he seems primarily driven by ego. It was that ego that forced Tokiomi to use his command seal to order him off before he showed the others all his cards. As I understand it the masters have only three of those to use as trump cards, though how hard and fast that rule is I don't know. Kayneth has already used one of his up on Lancer, as well.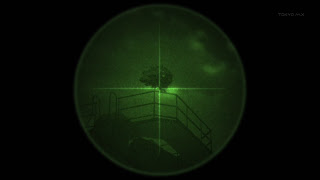 If I'm to quibble, I do wish that ufotable hadn't chosen Hayami Sho and Nakata Jouji to voice Tokiomi and Kirei, respectively. Those two sound enough alike that I've often confused them, and they're playing masters who are allies and even look a bit alike. That and Berserker's CG aside, I don't have a lot of issues – this continues to be an interesting and superbly produced series. I'll be very interested in seeing what becomes of Caster's obsession with Saber. I'm not sure I understand how that fits historically, unless he's somehow convinced himself that she's Jeanne d'Arc, whom he fought alongside – there's no connection between Gilles de Rais and Arthur that I know of, and it can't be sexual, as Bluebeard was interested in women only to keep up appearances and preferred to focus his desires in an altogether different direction.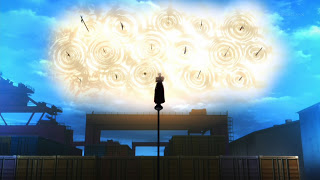 Seems to me that Kiritsugu and Tokiomi are the cleverest of the masters and have the closest thing to an upper hand at this point. Their identity as participants in the grail was has still not been uncovered, and their information about their competitors is more complete than anyone else's. Given that the servants themselves seem relatively evenly matched in terms of pure ability, it'll likely be strategy that determines the eventual winner in this game. One interesting variable is the matter of who was using a familiar to spy on the sanctuary church where Kirei is hiding. Which master do they work for, and does this mean that the nature of Tokiomi and Kirei's subterfuge has already been uncovered? Given that Kiritsugu seems to have the best strategic sense and the most deceitful nature among the other masters, he seems like the most likely culprit.