What an impressive production is Fate/Zero, with it's grand scope and gorgeous animation. It's surely going to be one of the most discussed series of the year, and deservedly so, though I still find myself a bit overwhelmed trying to keep everyone and everything straight in my head.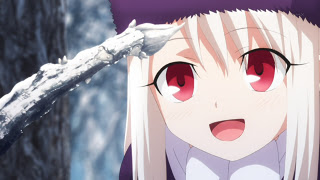 I wonder, is the general trend of the series going to be to following two or three teams of Magi/Sprit per episode? There are a lot of characters here, and it won't be easy to do them all justice. It looks as if this is going to be a series without a true main character, relying instead on a real ensemble cast to drive the action and development. But that can be just fine, but it does present its own set of challenges to a writing team, not least of which are keeping things from getting too confusing for new viewers as well as ensuring that all those characters are fully fleshed-out despite reduced screen time. Based on last week I would have guessed that Kiritsugu and Kirei to be the leads, but they were mostly absent this week.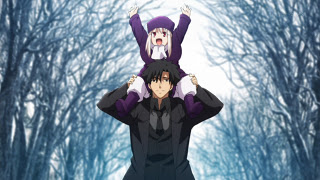 Instead, the focus fell on a few of the other teams, starting with the righteously indignant student Waver (Namikawa Daisuke), who's just summoned the spirit Rider (Ohtsuka Akio) who appears to be Iskandar, better known in the West as Alexander the great. He and Waver certainly make the odd pair, both physically and psychologically. One trend I see emerging clearly here is that this show is going to be a study of the motivations of the various teams to find the grail, contrasting between magi but also between magi and spirit. Alexander wants conquest, and if the Grail can serve that, fine – whereas Waver simply wants his social superiors to stop treating him like dirt (a sentiment Alexander rightly disdains). It's pretty hard to tell who the master is in this arrangement.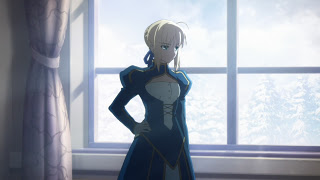 While we'd briefly met these two last week, we might an entirely new pair that look like they might be the villains of the piece. The human is Uryuu Ryunosuke (Ishida Akira) and his spirit – summoned seemingly at random – is Caster (Tsuruoka Satoshi). Uryuu is a common serial killer with an interest in the occult who apparently has no intention of becoming one of the seven magi in the Grail War, merely to use his victims blood to try and summon a demon. It's only when Caster appears that the mark appears on Uryuu's hand. Caster calls himself Bluebeard, but I believe he's supposed to be the notorious medieval pedophile murderer Gilles de Rais, who was known to have an interest in the occult (Caster speaks of Cthulhu Gods) and used that nickname, and was kind of an early Alestair Crowley with a special interest in torturing, raping and murdering children. This one is a pretty vile pair, and the scene where Bluebeard murders the small boy whom Uryuu had captured and orgiastically revels in his terror and death throes is one of the most chilling you'll see in anime. Far more so, I might add, then if it had relied on fountains and blood and gruesome guro like a certain horrendous CLAMP show of recent note.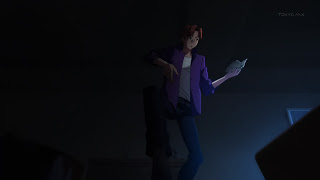 With Kiritsugu teamed up with Saber (Kawasumi Ayako) we have another famous historical figure in King Arthur – except Arthur was apparently a she. This pair seems to be the "good guys", or at least as close as this series is going to have to a real protagonist team. But we also have Kariya, who subjected himself to terrible torture at the hands of his father to spare the child Sakura the same fate. The partnership between Kotomine Kirei and Tohsaka Tokiomi appears to have been a sham, as Kotmine sent his spirit Assassin (Abe Sachie) to kill Tohsaka – with a complete lack of success, I might add, as Tohsaka's spirit Archer (Seki Tomokazu) – who's apparently Gilgamesh – made short work of him. Is Assassin actually dead – if a spirit is ever alive at all? I have no idea, but if so, that was amazingly quick work to die in the second episode.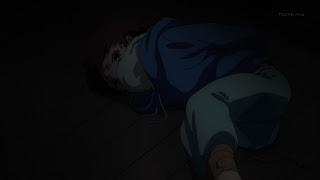 This is fascinating stuff, though I'm still admiring it more than truly feeling it emotionally for now – there's just so much to take in, and I'm having to think too hard to completely lose myself in the show. That's not a criticism – this is a big story and there's no way it wouldn't take a few eps for a new viewer to get it all straight. I can't knock anything about the series so far – production-wise it's flawless, with great visuals and a terrific cast. The sense is that Urobuchi has created a pretty powerful and epic story here, somewhat reminding me of a modern dark fantasy with a sort of "Game of Thrones" feel to it. With GoT, it was also mostly admiration for me in the first few episodes – and then the emotional buy-in kicked in once all the facts were established, and the show became something great. Hopefully Fate/Zero will follow that same path for me.
ED: "MEMORIA" (メモリア) by Aoi Eir