Possibly the most romantic pickup line ever: "This is the first time I've ever been interested in a mammal."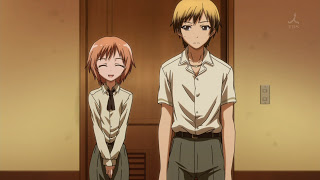 There's certainly a lot I could talk about with this episode and indeed this series, but it basic terms – right now it's just damn funny. The characters are bizarre in a good way, the dialogue is not only smart but has a great rhythm to it, and underneath all the zaniness, sex and snark the series is actually about something, It's not Evengelion or anything, but there are feelings and ideas at the heart of the show that pack a little weight.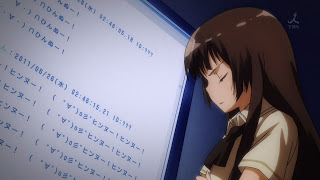 I said that it seemed like "things are about to get really crazy", but this episode exceeded even my expectations. Not one, not two, but three new club members were introduced – and each stranger than the last. First off we had Maria (Iguchi Yuka, dangerously close to Index here). She's a ten year-old genius nun and a teacher at the school – OK, whatever – who used to use the clubroom for her naps until Yozora tricked her into becoming advisor for the Neighbors Club. What is it with the Japanese fascination with loli nuns, anyway? She gets her habit in a bunch about how Yozora tricked her and how she wants the room back, but Yozora fools her with a side of bullying and brings her back in line.
Then things get really weird. Turns out the stalker who we've had glimpses of trailing Kodaka is first-year boy Kusunoki Yukimura (Yamamoto Nozomi), who sees the delinquent Kodaka as some sort of idealized male paragon who can inspire him to become more masculine. Yukimura is being bullied because as a boy, he pretty much puts Hideyoshi to shame in the manliness department despite his Sengoku warlord name. When Yozora gets him to wear a maid uniform, though, the resemblance to the legendary Mako-chan is quite remarkable. I can't help but wonder if Kodaka just rolled his pants down and wore socks some of this delinquent myth would disperse, but as far as Yukimura is concerned, he's now Aniki.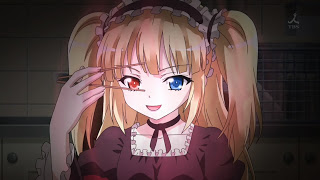 The main event of the episode, though, is certainly Shiguma Rika (the great – and underrated – Fukuen Misato). She's a force of nature, this one – a mad scientist à la R-15's Tsuruko who throws in a healthy dose of nymphomaniac for seasoning. A first-year girl and science prodigy who never has to go to class – she just designs drugs and such to earn cash for the school all day – she passes her time reading rape fiction when she's not having accidents with sleeping gas like the one that necessitated her rescue by Kodaka. Listening to hear read mecha porn was one of the oddest moments of the season. The climax: "UNIVERSE!!!" and Yozora's response – "You are broken." – was one of the best exchanges of the series. Haganai clearly has a thing for young girls reciting porn, not that I'm complaining.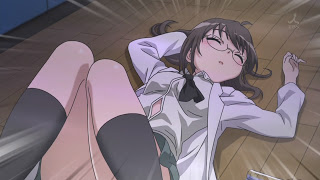 All the pieces seem to be in place for some truly bizarre comedy now. I found it interesting how vehemently Yozora responded when Kodaka lumped her in with the bullies, especially given that what she did to Maria and Yukimura (forcing her to be a serving wench in addition to the club sponsor and tricking him into dressing as a maid) amounts to a form of bullying. No doubt she's been bullied herself, and doesn't see herself as one, but I think she's being a bit hypocritical since the way she treats everyone is basically low-grade bullying. Now that Rika has showed up and declared fully for Kodaka ("How about trying sexual intercourse with me?") Sena and Yozora are going to have to trade in there some tsuntsun for a bit of dere, or risk being left in a ditch by the roadside. As for Yukimura, who knows where the hell that's going – I don't know if that "tingling" he felt was for Rika or for Kodaka.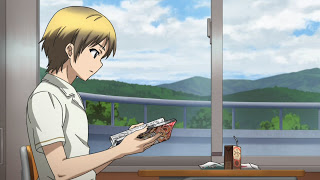 Poor Kodaka… He really is the only fairly normal person in the bunch, and he seems doomed to be viewed as a dangerous lunatic. This week you can add "rapist" to the list of false accusations. Thing is, he's showing a little bit of personality now that makes him just slightly more interesting than a boring "eye of the storm of wackiness" character. I like the way he lets his sister act out her silly fantasies and doesn't bother to play along and I like the fact that he persists in being his boring self, despite the fact that it's getting him nothing but misunderstanding. He's nowhere near as entertaining as his harem, but I see potential, and maybe with this much insanity in the room it's good to have one marginally responsible person.