The faces may look like Denpa Onna, but the similarity is strictly superficial.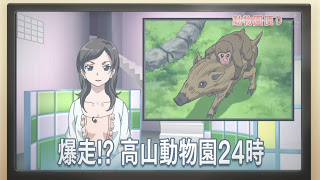 Three episodes in and it's pretty hard to get a handle on Haganai. Sure, if I had to pick one genre for it I'd call it a dark comedy. And this is a very fine example of one, with the humor derived from cutting dialogue and somewhat awkward social situations. But the series had a very skewed sensibility to it. Everything – the dialogue, the situations, even the fanservice – comes off like you're seeing it in a funhouse mirror. It's an odd show – funny when you think it should be serious, and serious when you think it should be funny.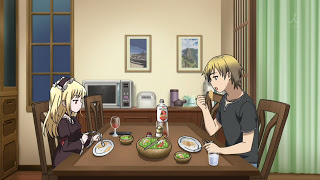 In actuality, most of the development so far has come not for the characters introduced first, but for Sena. I've enjoyed watching her descend into full on gaming addict, but seeing her sweat and stumble through trying to recite eroge dialogue was one of the weirdest scenes of the season. Funny, very uncomfortable, sexy… It's hard to say at this point where the line in the sand is that Yozora isn't willing to cross, but as of now she goes at Sena pretty hard, and generally seems to have the upper hand.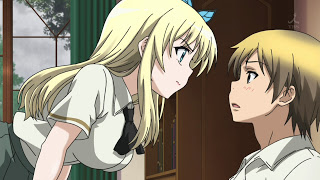 I was pleased to see Kodaka step out of the shadows this week and begin to assert himself. It wasn't so much that he stood up for Sena when the anime hoodlums were harassing her at the water park – we've seen that a thousand times (though I'm still unclear why Kodaka is scary, even with slicked-back hair). No, the part I really enjoyed was when he turned on Sena like a cornered rat and lit into her for the way she'd gotten herself deeper and deeper into trouble. That set him apart from most of the spineless males we see in series like this. I like Sena quite a lot, but she definitely had that coming – for her own good. The waterpark scene was also interesting for the off-kilter fanservice shots of Sena. She looked great, don't get me wrong – but those were not especially sexy shots, at least for me. I'm not exactly sure where that was going or how it was intended, but it was interesting nonetheless.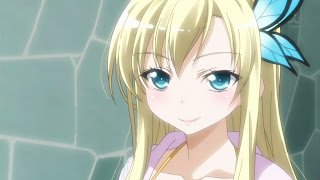 Did anyone not guess immediately that Kodaka's childhood friend was Yozora? What's interesting is that she hasn't told him yet, thought she obviously remembers. Full-on love triangle developing here, and we haven't even met most of the cast yet. We did meet one new member, Kodaka's little sister Kobato (Kana Hanazawa – have I heard that name before?). Sigh, it's yet another helpless little sister who depends on Nii-san for everything, especially with the parents not around. This one is also a goth loli, and forgive me for saying so but there's a smidge of Kuroneko in KanaHana's performance here. Not sure what role Kobato has to play here, but she's really the first character outside the big three to be introduced and I assume they wouldn't have cast one of the hottest seiyuu in the business right now if it wasn't a major one.
I get the sense that the character of the series is about to change yet again next week. From the looks of the preview we may finally be transitioning from the mostly three-character show to the ensemble one I anticipated all along. The nun was certainly there, and I get the sense that AIC has laid a trap for us as well…