The second episode of Ben-To was really funny and all, but one question dominates my thinking: where can I get that dialup modem ringtone?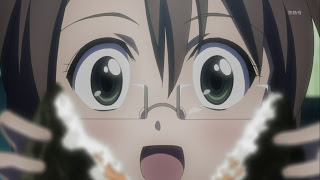 The "Sonic" wallpaper wasn't bad, either. I really like this series so far, because it's taking just the right tone with this material. The reverential pomposity of a samurai epic combined with the outrageous humor really works. You've also got a very strong cast and a visual style with a ton of flair. Put it all together and you have a solid comedy with a lot of potential.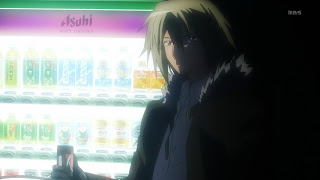 There are some things I especially like so far, and they're mostly in the realm of small touches that don't call a lot of attention to themselves. There's the aforementioned ringtone, first of all. Anyone old enough to remember the days of the 56K modem (hell, I used to have a 24.4 way back at the beginning of the stone age) has a sort of visceral reaction to that sound, only heard occasionally these days through a fax machine. The notion of a 16 year-old kid having that as a ringtone is utterly hilarious to me, but I think you might have to be a certain age to get why. Just as the whole premise will seem a lot funnier if you've actually experienced combat when the clock strikes 6:20 and the stickers go on the bentos.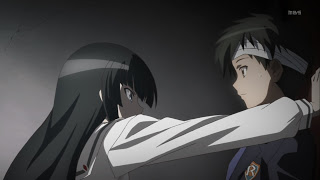 I also love how the camera will periodically switch to You's POV, and he's always looking directly at the chest of the girl he's talking to and not the face. Much of the series is shot as if through You's eyes, in fact, and it's a very interesting technique. The level of detail that goes into the mythology surrounding the bentos is impressive as well – wolves, dogs, ice queens, pigs, "The Storm" – plus the mythic figures at the markets who control the discounts. Add to that that the "fight" scenes are choreographed really beautifully – they're a blast to watch.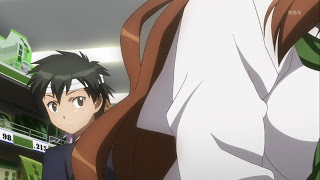 Things aren't all perfect, of course. So far I find Kayani Ai's Ume to be a bore, a completely derivative character that's become all too common in anime these days. Her whole subplot with Oshiroi is a big step down from everything else in the anime that feels so original, and the less we hear of it in the coming weeks the better. She's really the only character not clicking with me, though – Aoi Yuuki's Oshiroi is my favorite but I like all of them, and it'll be very interesting to learn more about The Wizard, Kaneshiro Yu (Miyano Mamoru), who looks like a character with great promise, especially with that seiyuu.