I love many animes, and it's always a joy to watch a really great episode and feel good about the world. But it's unusual for me to actually feel gratitude after an episode, as I did here. I really wanted to thank Production I.G. for the job they did with this ep.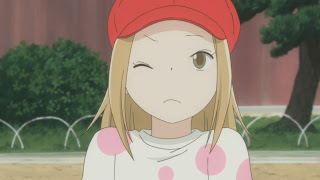 There are several reasons for that. First of all, it would have been easy to skip over or condense the material they covered here, on the pretext that it's not "substantial" enough for the anime adaptation. Yet, as I was reading through the early chapters of the manga (I'm trying to more or less stay a step behind the anime but with the order not exactly the same, that's not exact) these little scenes were among my very favorites. And thanks not just for including them, but for doing so faithfully, and perfectly capturing the spirit of the scenes from the manga. Thanks, too for casting Matsuura Aya as Rin and Sakai Noa as Kouki. These two very young seiyuu are doing an absolutely stupendous job, and some of the richness and authenticity of the material would be lost if the roles (especially Kouki) were played by adult women.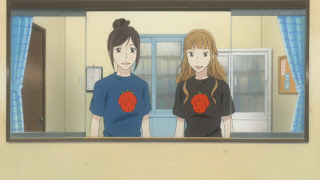 Most of all, though, it's gratitude to I.G and especially mangaka Unita Yumi for the smart and sensitive way they portrayed Kouki in this episode. Boys are struggling in school these days, in America and in Japan, falling behind girls academically and getting in more trouble, and dropping out in higher numbers. It might seem overdramatic to place significance on what happens in first grade but the problem starts early and just gets worse. Boys are generally hyperactive, action-oriented and driven to short attention spans as compared to girls, and there are far too many like Kouki's teacher whose response is to yell at them and belittle them, rather than try and cater to their strengths in the same way they do for young girls. In America, of course, the trend is now to classify being a boy as a disorder, and to prescribe Ritalin (or stronger medication) to try and cure a boy of being a boy. While there are undoubtedly many boys (and some girls, and many adults) who legitimately suffer from ADD/HD and benefit from treatment both via medication and otherwise, for many others it's simply an easy answer for impatient parents and teachers.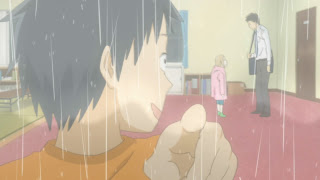 I'm also happy that Kouki is so much luckier than most boys in that he has – despite coming from a single-parent home – so many understanding people in his life. Not just the teacher who tried (and was succeeding before the ogress interrupted him) to settle Kouki down via much better methods, but especially Rin and Daikichi. I've just got to accept than Rin is a one in a million child and move past it, because she really is a marvel of patience and understanding, and tough as an old boot. Daikichi never snaps with Kouki himself – he starts to go, then catches himself (remembering his own childhood, no doubt) and becomes the father figure Kouki so desperately needs. The both of them see past the challenges Kouki offers with his energy and restlessness to the good soul underneath, and they're exactly what he needs in his life. As I said – lucky.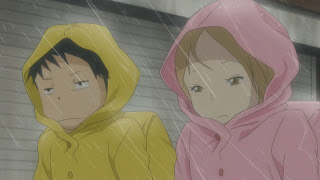 So in effect, really, the entire episode was a day with Rin and Kouki and their parents taking shelter from a typhoon. I've said from the beginning that I think Usagi Drop is at it's best when it goes small, keeping it's focus on the daily lives of it's protagonists and avoiding going for the big drama. If any ep proves (or disproves, if you feel differently) that theorem it would be this one. For me, I could watch these four going about their normal lives forever with nary a complaint. They're all great individually, and they have great chemistry together. Little manga moments that make you laugh – like the "Shinkansen is pooping!" pun – and feel, like when Daikichi asked Kouki if he loved his Mom – and both, like watching Rin try and get the hood of Kouki's raincoat to stay up – formed the backbone of the episode. You've a hard heart indeed if you aren't rooting for this little "family" to come together, because they're great when they do. It's easy to imagine a decade of preparing dinner, bathing, and watching TV and doing homework instead of just a night.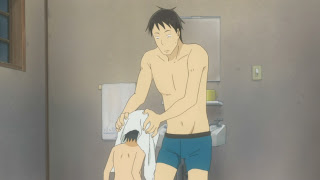 Things are never that simple, of course, either in anime or real life. But it was nice to observe one perfect (if windy) day, anyway. The ep did give a little picture of the challenges Kouki's Mom has faced in bringing up a demanding son on her own. It's clear she feels a sense of responsibility and guilt that he doesn't have a more "normal" childhood, and though we don't know much about their back-story I'm betting there's tragedy there. Daikichi is clearly interested – he's fallen not just for Yukari but for the idea of being Kouki's Dad – and it's a little frustrating not to see him act a little more boldly. Especially when Rin made her indelicate but innocent (or was it?) suggestion that Kouki and Yukari spend the night! He clearly doesn't realize that he's got a lot of appeal – the women at Rin's school certainly flirted hard enough – and the whole single Dad thing is a big winner in the romance department. But I think Daikichi also sees that Yukari is fragile, and has probably been hurt, and that's making him skittish about moving more overtly.
Hard the believe there are only two more episodes left – what a shame. Usagi Drop is an amazingly easy series to enjoy and it works on so many levels. It's all substance and can really make you feel the weight of the seemingly trivial things that make life memorable, and I'm going to miss it when it's over.