I pretty much knew when I started blogging R-15 that I was writing mostly for myself, and that most discerning anime fans would never give the series a serious look. But that hasn't stopped me from enjoying the hell out of both the show itself and writing about it, no matter how tiny the pageviews and comment counts are.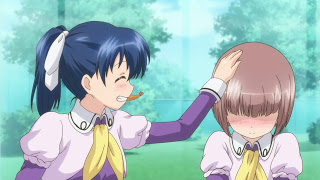 I've made most of the points I want to make about this show over the course of the last three months, so in summation I'll just highlight some of the things that really stick with me. First of all – snobbery is a bad thing. I'm guilty of it as much as anyone, in anime and elsewhere – but there's no substitute for an open mind and personal experience. Don't let anyone else tell you whether a show is any good, and don't let your own biases close you off to the possibilities. It happened to me with Hikaru no Go – which I'd written off as a kiddie show about a boring board game – for years, and it almost happened to me with R-15 this season.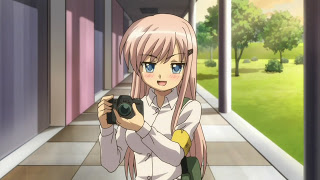 The other thing I want to make clear is that I'm not blogging this series as a charity case or to make a point, though of course I'm thrilled that I've goaded a couple of readers into becoming fans of the show. I'm doing it because R-15 is a damn good series. First and foremost, it's unbelievably likeable. It's show with a genuinely good heart that cuts through it's edgy humor in the same way its unabashedly idealistic view of romance cuts through the ecchi. The three characters at the heart of the series and the love triangle at the center of it, Taketo, Fukune and Utae, are some of the sweetest and most likeable teenagers you'll find in anime. They're all smart, all kind, all genuinely considerate of each other and the awkwardness they exhibit towards each other where romance is concerned is a thousand times more real than in most "serious" teen romances.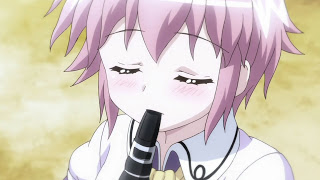 As well, the supporting cast all emerged beyond the tropes they appeared to be at first. Even as the series got off to a great start, there were worrying signs that it would be a typical example of a series where a bunch of girls tortured the good-hearted but helpless male lead, as his crush forever has the wrong idea about him through misunderstanding. But all of those girls, one by one, showed that they were capable of admitting they were wrong and even became allies of Taketo to some extent. Raika is the most glaring example – the worst kind of sadistic she-witch and I hated her at first, but in shocking terms she was shown to be a victim of terrible self-loathing – and she was genuinely grateful (despite her tsun exterior) to Taketo for helping her to see her own worth. She's a fascinating character, but even the likes of Ran and The Chief of the newspaper circle proved to by complicated and ultimately decent people.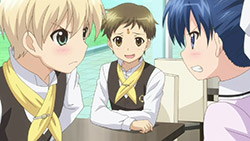 I adore the fact that a series about a teen porn writer turns out to be the most unapologetically romantic show in many a season. Taketo is a character steeped in irony – he writes porn that readers eat up because it reflects his totally fantastical 15 year-old boy view of sex. But in actuality he's both a thoroughly innocent "NBK" and a pure-hearted romantic who sees Fukune in terms of romantic love much more than sexual desire. Even his final Pièce de résistance, his chorale score for the indoctrination contest, reflects the duality of his nature. And that's the dual nature in all of us, the body and mind, the big head and the little one, the physical and the spiritual desire. Taketo is nobody's fool and nobody's pushover – he's both smart as hell and a determined kid who never gives up. But he's too innocent to understand that neither sex nor love is as simple as he makes them out to be – and that makes him even more likeable as a protagonist.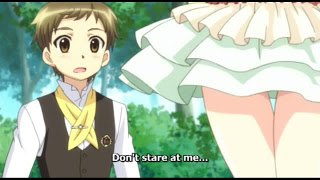 This is by no means a perfect series. There was a lull of 3 episodes or so in the middle where the delicate balance R-15 worked under tipped too heavily in favor of the mean and the ecchi, and the show stumbled. The totally inexperienced voice cast was inconsistent, though Goda Aya stood as with an excellent performance as Taketo. But on the whole it was a rousing success both as an entertainment as as – believe it or not – something deeper. I made the astonishing claim after the first ep that this show as "sort of deep" and damn, I think I actually got that right. It really does seriously look at the duality of human (especially the male human) nature, and the supreme irony really is that the show itself is misjudged and maligned in exactly the same way the main character was at first – dismissed as sex-crazed and shallow and stupid. Taketo had a happy ending, as through the act of helping his fellow students he was gradually acknowledged as a smart, kind person. Will the show itself be so lucky? I doubt it – I suspect this is a series that will never be taken seriously by "serious" anime fans who'll dismiss it without so much as a glance. But that's their loss – R-15 is good in both qualitative terms. It's well-made, and it has a good heart. Give me a few shows like that every season and my nosebleed meter is at 100%.