It strikes me just how much the character of this show changes depending on where its focus lies in any given episode. It was certainly true in the transition from season one to this season, and it's even true from episode to episode and within the episodes themselves.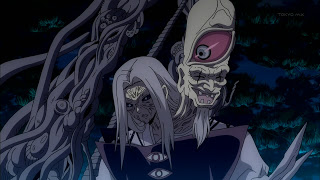 As surmised here last week, it was indeed the envy in Akifusa's heart that was the weakness exploited by Hagoromo-Gitsune – specifically Minagoroshi Jizo, who possessed his body. The politics of the Keikain come to the fore here, as there's obviously a sense of rivalry between Akifusa and Ryuji for the role of next leader of the clan. That is, until little Yura showed up and showed that she could master the Hagun summoning, a powerful spell that calls on the power of the dead Keikain onmyouji, and was foretold as being one of the calling cards of the next leader. More reason for Akifusa to seethe and glower, albeit in secret.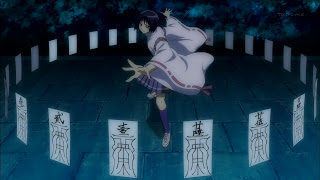 The upshot of all this is that it's rather ironic that Yura and the Hagun is what ends up saving Akifusa from the possession. Hagun also calls the spirit of Hidemoto, the legendary 13th head of the clan who was responsible for sealing Hagormo-Gitsune 400 years (and several episodes) ago. Naturally the Nine-tails is surprised to see him, being that he should be centuries dead, but Hidemoto doesn't like the odds and his assistance to Yura is merely in casting a spell to cover the retreat of the surviving Keikain forces. Perhaps he has in mind to stall for time until his old friend from Edo (or his Grandson) shows up.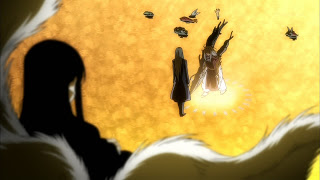 The other plot rolling out is the simmering resentment beetween the Nura clan and the Tono clan, with the latter proclaiming that they bend the knee to no one and they're only along because Rikuo would be dead meat without their presence. This causes some friction on the airship, quite naturally, though this part of the episode never really gains much dramatic traction. What's obvious here is that the Nura are feeling very sensitive to charges that the clan has weakened with the aging of Nurarihyon (due to Nine-tails eating his heart), the death of Rikuo-Papa and the ascension of a green boy who can't even execute a proper fear yet. So they overreact, naturally, and a scuffle ensues. Rikuo seems oddly tone-deaf about this issue, or perhaps it's simply a matter of him still being only 12 (or is he 13 now) even in youkai form, and not well-versed in the niceties of big-boy politics.
I'm ready for all the parties to get together and rumble. The setup has been interesting, but let's get to the main event.