I'm surprised, but Natsume Yuujinchou will be returning for a fourth season in January. Another season was a given – this show always does great on DVD/BD – but I'm surprised it's so soon. If I'm right this would mean some anime-original episodes because I don't think there will be enough unadapted manga chapters – and I actually hope that's true, because I've loved almost every anime-original ep Brains Base has done.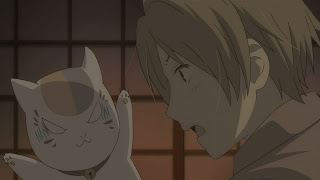 I actually haven't loved this season quite as much as the first two, though I can certainly understand why some fans have loved it even more. To oversimplify, I think the first two seasons were about Natsume coming to grips with his ability and trying to understand Reiko, and this season has been about Natsume growing beyond his past and finding his place in the human world. As a result, most of the youkai in the first two seasons were lonely, sympathetic figures whom Natsume was able to help in some way, and most of them this season have been plot devices to show Natsume's growing connection to humanity or outright antagonists. There's much more of an "Us vs. Them" theme this year, and I just don't personally find those episodes as engaging as the heartwarming ones where Natsume and the youkai have their paths cross briefly and bond.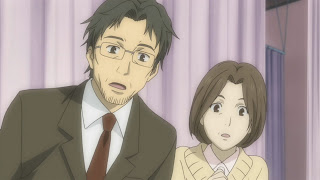 Again, I think it boils down to personal preference. If watching Natsume interact with his human companions and become more comfortable in that world is your favorite aspect, this has been the best season yet. Natsume certainly deserves to be happy, and he certainly needs to grow as a character. But in a sense, I think the POV of the show has changed – it feels to me as if it takes the view that Natori's approach to youkai has been the right one all along, and Natsume was too naive. I certainly wouldn't have said that before this season started.

I think the path Midorikawa-sensei has chosen is clearly that of Natsume choosing the human world over the youkai. In a sense it's as if Milne had written a sequel where Christopher Robin has grown up. In my view, the only honest way this path can conclude is for Natsume and Nyanko-sensei to part ways – you can't leave the Hundred-Acre Wood and take Winnie-the-Pooh with you. If that doesn't happen I think that amounts to the mangaka trying to have it both ways, and while that might please the fans I think it's sort of cheating. We'll see – it's very possible this fourth season was announced with the private knowledge that she intended to conclude the manga, and the anime and the manga may end more or less simultaneously.