Going into this show, one of the nagging questions was whether Ikuhara Kunihiko could restrain himself long enough to deliver a focused, coherent and entertaining two-cour series. Well, we're a third of the way through now and at this point if the jury was required to render a judgment, I think it would be a resounding "No".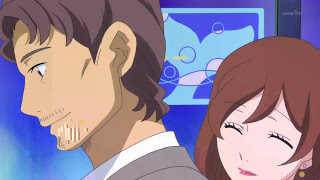 We have a tendency to romanticize big stars when they've been away for a long time, and that's certainly the case with Ikuhara. The rose colored glasses of nostalgia would say he's an infallible genius, but I think an honest assessment would say that's he's an extremely talented but deeply flawed director. All of his work has been plagued by a tendency for self-indulgence, repetitiveness and loss of focus. The maddening thing is that at his best, he's one of the best – visionary, funny, disturbing. But there are times when I really think he'd have been better off restricting himself to movies or OVAs, and this is one of those times.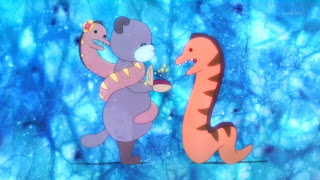 I want very much to like Mawaru Penguin Drum – and there have been times over the last two months when I have, a lot – but right now Ikuhara is making it very hard. Where to begin? The humor is recycling, and starting to recycle the recycled humor. Ringo's stalker act was wearing thin by the second episode she appeared in – right now she's just scary, and not in a good Yuno Gasai sort of way. The fantasy sequences are basically the same joke retold over and over. The only humor that's really working is the antics of the penguins, and frankly, that's as repetitive as any of it – it's just that they're so damn cute and Ikuhara – even at his low ebb – retains his incredible eye for scene composition, producing effective sight gags consistently. Even that's starting to thin out, though.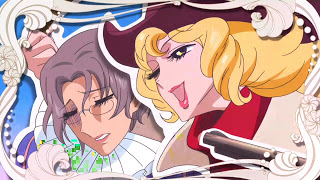 Really, the big problem that's been plaguing MPD since the very beginning is a lack of engaging characters. At this point Shouma remains the only character remotely sympathetic, and he might be dead (though I rather doubt it). Kanba and Himari never broke out, but they've been reduced to stage props and no one else has been around enough to make any impression. Ringo is certainly the biggest issue. No matter how bad her family situation it's impossible for me to feely anything positive for her, not even pity. She's ruthless, insane, megalomaniacal, delusional, and this week proved herself capable of rape and worse. And this is the main character? It didn't look that way once, but it sure does now – and Ringo cannot remotely carry a show.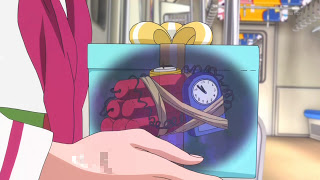 The thing is, I really wonder what Ikuhara wants us to think. With one hand he glorifies Ringo's behavior by dressing her up all in the moe clichés of the medium and his eye obsesses over her relentlessly. On the other, Shouma – the only decent and sensible one in the central cast unless you count the witless stick figure Tabuki – calls Ringo out for exactly what she is, a crazy bitch who doesn't think twice about ruining anyone's life to support her insane delusions. So where does the director come down on all this? As usual, Ikuhara's focus is so scattered that it's hard to tell. If I had to guess, I suspect the POV he's espousing is something like "Yeah, I know she's a crazy bitch but isn't she great? She's cute and she's just so damn nuts you can't help but love her! Don't you just want to stare at her for 22 minutes? Laugh at her, smile at her, love her!"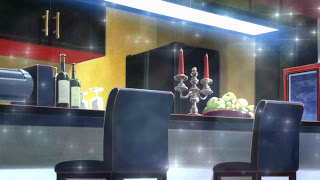 Next week is going to tell a lot about my future with this series. The tone these last couple of episodes has just been so distasteful and unpleasant that I really don't know if I want to be involved with the show much longer, but there is an element both of genuine curiosity – can Ikuhara get his form back and deliver on his limitless talent, as he often did in the first few episodes? – and morbid fascination as if witnessing a terrible car wreck. Those can only take you so far, though, and if Ikuhara doesn't take a few steps back from the brink I don't see myself following him much longer.