Anyone who thought Kamisama Dolls wasn't going to deliver on its potential with a kick-ass finale were wrong, as it certainly did. But if you're looking for any kind of closure, you're barking up the wrong tree.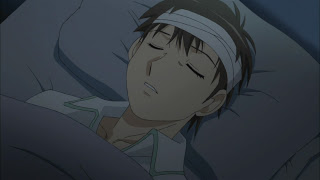 We've all heard the debates about how to end an anime when a manga is ongoing, and the hard fact is that there's no perfect solution. Ao no Exorcist, for example, is going with an anime-original ending – so far with pretty decent but not great results. KamiDolls has pretty much done the exact opposite. Brains Base decided, simply, to stop – literally, stop – right in the middle of the story. And it was weirdly satisfying, because the portions of the manga it adapted felt full and internally consistent, and because they chose a pretty good spot to end it. They even made the odd choice of giving a "preview" consisting of some very GAR scenes from a potential sequel. Depending on your mindset and mood, I could see that as being either very cool or incredibly annoying.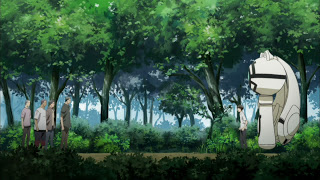 I've been evangelizing for this show since before day one, so I'm glad to see that it seems to have picked up a lot of fan support rather late in the game. Whether that's enough to translate into another season is an open question, but that's a topic for the series review. As far as the final episode itself, it was a corker as you'd expect. Not as breathlessly insane and fast-paced as last week, but a nice combination of action and reaction, capped with a solid dose of reflection. All of the characters received at least a semblance of resolution, with the notable exceptions of Kirio – left shivering in the rain at a bus stop – and Mahiru, on board a plane for parts unknown with Magatsuhi destroyed.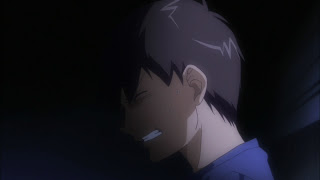 Yes, Magatsuhi was full-on obliterated by Kukkuri – there's no spit and duct tape from Mayako to fix this. Just what exactly happened with Kukkuri is unsure, what with Kyouhei and eventually Utao having been unconscious at the scene. But based on the music it seems impossible to conclude that anyone but Kyouhei was controlling it as it went all super-saiyan and crunched Magatsuhi. There's been evidence all along that Kyouhei was an insanely strong seki when he wanted to be, and with Hibino in trouble it was clear – unconscious or no – that he wanted to be. Via flashback we see the previously unseen final moments of the epic events of episode 7, when Kyouhei want a little crazy and sent Kukkuri on a rampage of destruction, ending with him beating on a prone Aki before the Kuga elder shows up – and Utao somehow stops Kukkuri before it can kill the elder.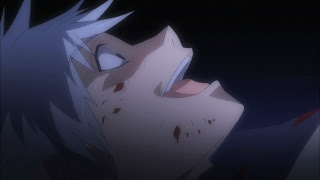 None of that comes as a surprise, but the critical scene when Aki stops by Hibino's apartment to see Kyouhei (now released from the hospital) is an interesting one nonetheless. It's always been clear that these two were far more alike thank Kyouhei cares to admit, and there's a vein of pretty deep love/hate that ties them together. After a very nice moment when they share a laugh about happier boyhood times, Aki says he's going back to the village to settle things – though we aren't sure just what that means. Aki certainly feels he's gone too far down the path of blood to turn back, but for Kyouhei it's a matter of acknowledging Aki's charge that he's been running away from who he is. Dismayed that he's forced Utao to shoulder to big a burden and put Hibino in danger, Kyouhei resolves to return to the village and deal with things head-on.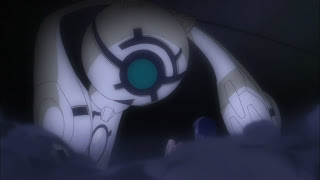 It was nice to see a real resolution on the Kyouhei-Hibino front – no wimpy anime cop-outs here. They kissed, they blushed, they kissed again. It was pretty cool the way Kyouyhei confessed via a dream – and thrashed his way awake right into Hibino's arms. This seems pretty definitive to me – they've declared for each other and Hibino isn't about to let Kyouhei leave her behind to take things all onto his own shoulders. it seems a sure bet that Kyouhei is headed back with Utao, both to allow Kyouhei to take responsibility and to give Mayako's grandfather a chance to work on the mysteriously lifeless Kukkuri. But the implication is strong that Hibino intends to follow him back, which should prove most interesting.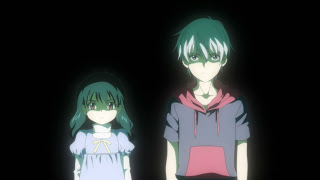 Finally, there's the matter of that preview. Kyouhei is apparently going to take control of Kukkuri again in the coming battle with Amateratsu, whom the Hyuga elder is coaxing back to life. It's going to be a lot for Utao to deal with, especially lumped in with the reality that Kyouhei isn't an incestuous lolicon and she has no chance there either. As I said, for an open-ended finale it was oddly satisfying. Everything is up in the air but there was a sense of finality, too. While that doesn't dampen the desire for a second season one iota, it does increase the appreciation for what a great adaptation and great cour of anime this was. More on that in the series review.