Damn, this is a good series. Great to look at, sexy, dangerous, whip-smart and loads of fun. This is why anime and manga exist – there's no way Kamisama Dolls could exist in any other format.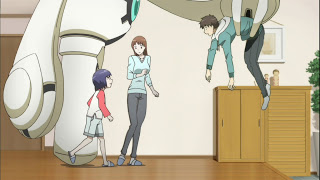 One of the things I love most about this show is the remarkable ability for it to be fun, yet at the just same time create a real sense of menace. Bad things happen here, and justice isn't always served, and there's no sense whatsoever that the good guys will inevitably be all right in the end. Yet against this backdrop are some of the best boob jokes ever, Utao's vamping, Kukko's yandere insanity, And Aki's tsundere relationship with Kyouhei. Perhaps the best embodiment of this is Miharu, who wraps both elements into one. She's undeniably entertaining – Kana Hanazawa is having great fun playing her as an absolute nut job, a loose cannon of the highest order. She could easily kill someone and very nearly has already, and doesn't think twice about kidnapping civilians and Tasering a tied-up Aki. She's a real lunatic.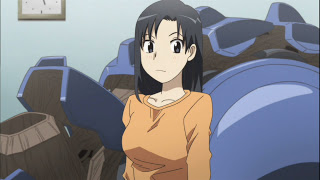 Of course, she's also a weapon, and it now becomes clear she's being used as one. As crazy as Mahiru is, her larger goal – scrap the system of the village hierarchy – is a good one. Of course her loopy vision of a Romeo & Juliet scenario (albeit with a happy ending) with a Kyouhei who would sooner castrate himself than date her is just absurd. She wants to do the right thing for the wrong reasons, as I see it – and I think the same is likely true of Hirashiro, the Diet member. It seems to be he that's pulling Mahiru's strings, but like Kukko (there's no shortage of crazy people in this series) with Aki, he has no idea what he's let himself in for.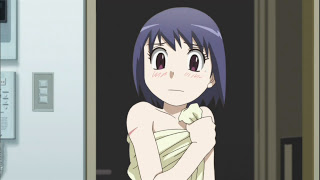 Speaking of Aki, though he's bound and stunned by Miharu he's using her as well, seems like. It's he that sends her off like a mad dog after Hibino, convincing Miharu that Hibino is Kyouhei's girlfriend. His motivations might be simple mischief, but it seems more likely he sees this as a way to get his ultimate goal – to piss Kyouhei enough so that he jumps back in the seki saddle again. We know more than ever thanks to the story he told Koushirou that Kyouhei is a bit of a wildman when the bit is in his teeth, and his raw seki ability appears to be unequalled. It was his ability to use Kukkuri's left hand to absorb and reflect the power of the rogue seki than saved the three kids' life back in the village, and now that Miharu has kidnapped Hibino it seems more likely than ever that he'll be forced to take Kukkuri's reins again. If Hibino's life is at stake, how can he not?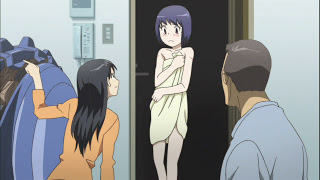 For now, Hibino's life may not be at stake but her innocence might be. Hirashiro's creepy henchman Shiba (Ono Atsushi) has been ordered not to kill her, but he doesn't seem to be troubled at the notion of raping her. There's that sense of menace, again. Much of the episode was spend making light of Hibino's absurd breast size – including an extended scene of Miharu tuning in Tokyo with extreme prejudice – and indeed, I've never seen an anime make better use of the "big breasts" trope than this one. They're huge and everyone knows it, and the absurdity of it seems lost on no one except Hibino herself. But at the same time she's in grave danger, having been kidnapped by a psychopath and about to be violated by another, and she's done absolutely nothing unkind to anyone in the entire series that I can remember. It's an odd dichotomy.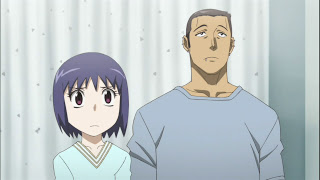 There's no question that KamiDolls has a higher concentration of crazy people than just about any "realistic" series I can remember. Miharu, Kukko, Aki, the Hyuga head, all pretty much nuts to some degree, and nearly everyone else has severe trauma issues. It really makes you appreciate how normal Koushirou is, and how he might just be the best one to shepherd Kirio through the rest of his childhood. He's so matter-of-fact ' "The girl with the big tits was kidnapped!" – yet he's clever, and never reacts without carefully considering his options. As for the situation with Kirio and Utao, it seems to be acting mostly as a side story in the anime, but it's another element I'd like to see much more of in the second season.
As of now nine volumes of the manga have been released, which should be roughly 54 chapters. At the pace the first season is adapting, that's just about enough material for a second season, and there almost certainly would be a year or so from now. Are the Blu-Ray sales strong enough to justify it for Brains Base? I certainly hope so – this one is a real winner.