I can already tell that next week's finale of Ikoku Meiro is going to leave me an emotional wreck. I've rarely encountered a series that can evoke such a powerful reaction with so little effort – every gesture and phrase is meaningful. In the context of what's looking like it might be a bittersweet finale, that means next week could hit pretty hard.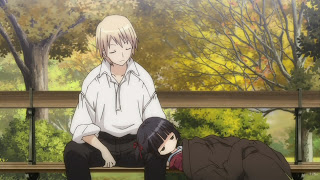 I've said that this might not be the best show of the season, though it's my favorite – but to be honest, I think it's the best, too. Either way, every so often a series comes along that just hits the perfect wavelength to impact me, and this is one of them. I find the interactions of the characters to be almost frighteningly authentic and cutting. This is a story that understands the things that are truly important in life, and the things that aren't nearly so important as we sometimes make them out to be. It also understands the barriers we erect between ourselves and others out of fear, and the way we proudly carry our pain with is almost as a badge of honor. Simple and profound, my favorite catch phrase – and this is a case where it really fits.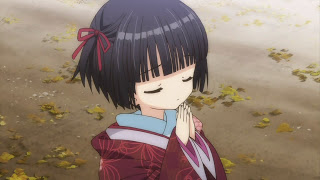 The nominal subject this week is this sort of pain, the kind we don't want to share. For Claude, there are painful memories of his father – brought to light when Alice asks Yune to go to the Grand Magasin, her brother's modern, lavish department store. We already knew that Claude considers it the enemy of the Galerie du Roy, but Oscar shares the fact that it also recalls painful memories of Jean – we're not sure how, but clearly it specifically contributed to his demise. Claude forbids Yune to go, and Alice – perhaps sensing the depth of feeling this inspires in Claude – relents with surprising humility. Yune, upon hearing the truth from Oscar (and clearly crying about it) fiercely tells Claude that she no longer wishes to go. The joy this brings to Claude is heartbreaking, and he suggests a picnic in the park as an alternative day out.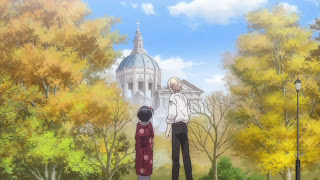 The story of Yune and her sister Shione has been hinted at in prior episodes, but when Oscar inadvertently gets Yune drunk on eau de vie, the story takes on a new meaning. We've seen how loving and protective Shione was, but Yune – inhibitions lowered by the alcohol – shares the tragic story of her sister's loneliness and pain. Because of her pale blue eyes, everyone in Japan considers her creepy and scary – a jab by the author at the cultural xenophobia that persists in Japan even today. But Yune considers her sister's eyes beautiful, and in an innocent act casts a "spell" on Shione that says she'll only be able to look at Yune. When Shione really does go blind and her health starts to decline as Yune grows stronger, Yune carries the guilt with her – silently and alone, until this day in the park. As with so much in this series we don't know all the details. Is there Western blood in Yune's family, perhaps related to the Bohemian singer Anne in the special DVD episode whose Grandmother taught Shione the song her European husband had written her, "Tooku Kimi He"? What really caused her blindness?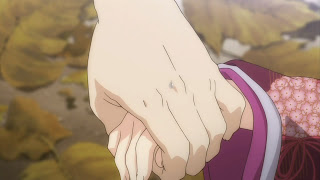 The point of all this is that in her moment of weakness, Yune revealed a secret she thought to keep to herself – and in doing so, breached the wall that Claude had set up to avoid becoming too emotionally attached to her. Oscar reveals himself once again as the marvelous character he is, so much the quiet unsung hero of the cast. It's he who comforts Yune, telling her that he knew all of this from Shione already, and weaving a spell of his own to make Yune feel better. Later, he confronts Claude about his desire not to learn too much about Yune for fear of the moment when he might lose her. As Oscar says, it's easy to have faith in someone right next to you – but Shione had faith in Yune that she could go to Paris and thrive, and be happy (and faith in Oscar too, if you ask me). Faith is not something that comes naturally to Claude, but if he's to grown beyond the cage he's built around himself he'll have to learn some of Oscar's wisdom.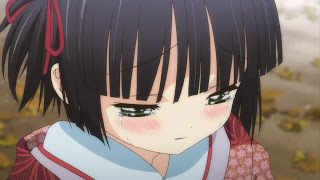 I strongly encourage everyone to watch the newest subbed version of episode 4.5, if you haven't already. "Tooku Kimi He" is heartbreakingly beautiful musically, but knowing the lyrics adds another layer of meaning to it – both in the context of the story of the special episode and that of Yune and Claude's current situation. I've been listening to the OST and this might be the most beautiful anime song I've heard in years – I just can't decide which I love more, the version sung by Toyama Nao or Megumi Nakajima (Anne).