I'll be honest – I could spend a lot of time complaining about why this final episode of HanaIro being such a good one fills me with regrets about what might have been. But I won't – instead, let's celebrate the fact that the series ended on a lovely elegiac note, striking just the right tone and hitting some real emotional home runs without trying too hard.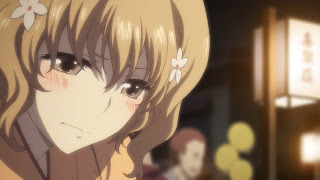 As a longtime Kou supporter, let me reach out to the legions of Kou haters and Tohru-philes now that the series has ended, with these simple words of reconciliation:
Neener neener neener.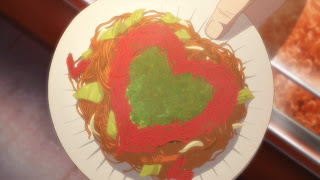 Now that's out of the way… I was a pretty strong KoHana supporter as you know, so I was naturally pretty pleased about the way things turned out on that score. While their relationship was left somewhat open-ended and – thanks to pervert Jiromaru being in the wrong place at the wrong time (which is anywhere on-screen, any time) – it was never sealed with a kiss. But it was abundantly clear that those two crazy kids would be giving it a chance, which is all I was hoping for. They're 16, not 40 – there's no reason they should worry about long-term commitments. For now it's enough that they were tested by living apart (and by alpha-male line cooks and megane-girls at bookstores) and never stopped thinking of each other. It was never going to make sense for this series if they didn't end up together, but I was certainly worried right up to the very end.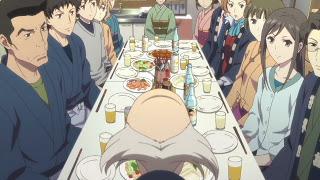 On the other hand, I'm pleased that their romance was not the primary focus of the finale, but rather handled in a very understated way. This isn't a romance series and never was, and what's more, I'd argue that in the end the series wasn't really about Ohana at all. No, I think we were sold a bill of goods, and it was really Sui who was the main character. And since the moments when she was at the center of the action were generally among the best the series had to offer, that's fine. In a way, she was the one constant that ran through the show and she provided all the best emotional moments of the finale. I loved the scene where she walked through the Kissuiso saying goodbye to the empty rooms, and I loved the scene where she ran into Ohana who had "missed" her train, and broke down at last. Ohana is the granddaughter who it turns out is so much like her, after all. When she told Ohana she'd be waiting for her when she returned, I suspect in Sui's mind she was thinking of the way her dear husband was waiting for her at the Kissuiso.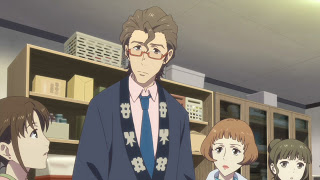 There were a few issues with the finale. There was a bit of the "Return of the King" syndrome in that the episode felt like it had about 5 different endings, some of them five minutes in. Of course with a long series like this one, it's hard to wrap things up quickly and I'm certainly willing to put up with a bit of that in order for everyone to have a chance to say goodbye. I also thought that the resolution of the closing of the inn was a bit too convenient. Enishi will close it – but only for a while, with plans to reopen it later, and town will conveniently maintain the place as a historical landmark? That's a bit much for me, to be honest, and does detract from the emotional honesty of the resolution a bit. Perhaps if it was made clear that it was meant to be one of those promises we make so everyone will feel better, never intending to keep – but I got the sense that isn't the case, and we're meant to believe that the inn will reopen someday.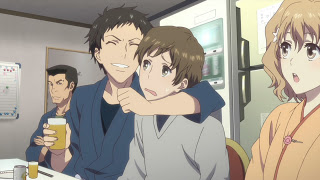 They crossed the streams!
The pluses far outweighed the minuses though. The finale was an instance where PA Works' magic visuals really made a huge difference. The Bonbori Matsuri (leave it to PA Works to capture all the magic of a Japanese festival – there's nothing like it), the empty rooms at the inn, the fog… The level of detail and sophistication in the animation was superb, and everything felt so real as a result. This was an ending where it really only worked if you put yourself in the shoes of the characters and feel what they felt, and it was so much easier to feel the mystical pull of the matsuri and the sadness of those empty rooms because they were presented so beautifully.
I'm truly glad things ended on a high note with HanaIro. This was a finale of subtlety, grace and restraint, and it left all the characters in a believable place. It took a lot of patience to get to this point as a viewer, but I'm glad my lasting memories of the series will be mostly positive because of the way it concluded its business.