I guess it just wouldn't be HanaIro if it didn't take one (hopefully) last turn at pissing me off, which it did with a generally meh-diocre penultimate episode.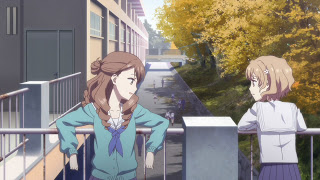 Lest I give you the impression I thought this was a total disaster, I didn't. As it so often has, the show almost salvaged the episode by a very strong final few moments, and I thought the scenes between Sui, Satsuki and Ohana were excellent. But in general the drama was overwrought and had an artificial quality to it, and I'd dared to hope that after two very strong episodes, we might see the series finish with an unprecedented run of four winners in a row. Alas, it was not to be.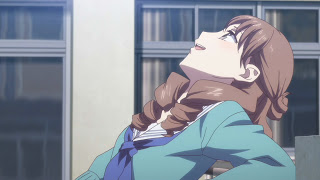 One bone of contention, for starters, and it's nothing new: Okada's insistence on continually emasculating her male characters. This has been tiresome for a while, but to fall back on it again here so close to the end is really infuriating. Yes, we all know Enishi is a hapless and only semi-competent manager. Was it really necessary to rub our faces in it by having him humiliated so forcefully yet again? To be slapped in front of his staff by his idiot wife when he finally shows the spine to stand up to his domineering sister and mother? The message from Okada seems to be, "Know your place in my world, Boy. This is what happens if you try and overreach yourself." In hindsight maybe this is why Tohru was such an appealing character for so many, because he's that rare Okada male that isn't made to look like a spineless jellyish and usually made to cross-dress.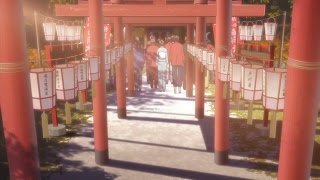 I just didn't feel the dramatic tension here. The staff's hostility towards Ohana felt very much out of proportion and manufactured. So she dared to be Sui's granddaughter – does that make her to blame for Sui's decision to shut down Kissuiso? The whole "siding with Okami" conflict seemed to be have been manufactured out of left field so the episode could have something to angst about, when in reality the previous two episodes had set up more than enough real drama that the episode could have focused on. How about a real dialogue about whether Sui's decision was selfish or selfless? How about some allusion to the situation with Kou, still – incredibly – being strung out and ignored even in the 25th episode? How about some real interior thought from Ohana about just what she wants to do with her future?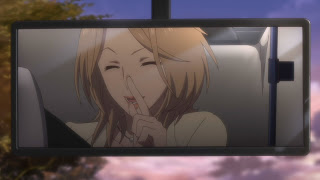 As mentioned, I did like the story a lot better once Satsuki showed up (as usual). Sui was generally the best part of this episode, showing us some rare playfulness and her indomitable spirit, so once the two of them were together with Ohana the ep really shone. It's an odd thing about HanaIro, that it so often finds moments of grace very late in mediocre episodes, but it certainly does. It was undeniably poignant to see the three generations working together side by side in the place the oldest of them had built from nothing and that the daughter had abandoned to its fate. If this had been the focus of the episode the show would have been much better served.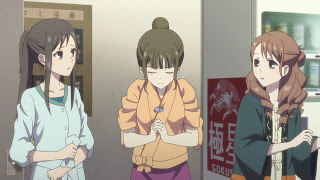 Now that we're finally at the end, things look mighty precarious to me for a show that's frequently showed terrible judgment about where and how to focus its energies. We could be looking at an overly sentimental sea of forced tears, as there are definite death flags for Sui. I'd hate to see the series pander with that kind of cheap stunt in the end, just to take an easy out for an ending. There's a chance of total anti-climax with the KoHana situation, which was almost totally ignored this week. If that's left hanging and totally open-ended, I for one will be thoroughly ticked off. And it could be an anti-climax generally if no real decisions are made for the future of the inn, and it's just a "Let's pick our plucky selves up and face another day!" end. Some hard decisions need to made if this ending is going to work – will Ohana and Kou give it a shot? Will the inn stay open, and if so – in whose hands? If these kinds of things are ignored for the usual stunts and nonsense the series has fallen back on far too often, that will be the capper on a series that will be notable, more than anything, for unfulfilled potential and missed opportunities.