Perhaps if CLAMP HQ is burned to the ground and the Earth is cleansed by fire, the Gods might forgive us as a species for producing this series.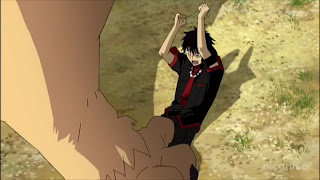 Hard to believe fact of the day: the same animation studio produced both Seirei no Moribito and Blood-C. I'm not sure what I hated worse about the finale – the utter and complete lack of imagination or the dismaying predictability of every single aspect of the plot. Or perhaps it was the bogus and absurd attempts at emotion that were never earned? Or it might be the contemptuous belief that sheer volume of blood and finding new and grislier ways to cartoonishly kill people is a substitute for real horror. Oh well – in this, at least, there's an embarrassment of riches for Blood-C – there's plenty to hate for everybody.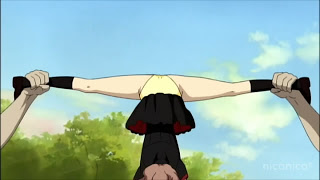 So what actually happened in this finale? Well, God's in his heaven and all's right with the world – Fujiwara Keiji didn't survive the series. Pretty much every prediction most of us made came true, including that the nature of the contract was that the elder bairns were allowed to eat a certain number of humans annually in exchange for not being persecuted by those nasty humans. Tadayoshi was an elder bairn (well, a half-breed) and Saya killed him – which was followed by one of the better laughs of the finale as the strings came in, telling us to be sad. The twins, Tokizane and sluttly-sensei were graphically killed (they were the appetizer) and Class Rep gave us the other hilariously false emotional moment by taking 22 bullets for Saya for no reason.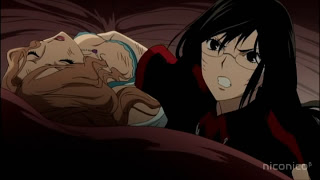 Mostly, though, it was a soul-crushing orgy of poorly animated action sequences and some of the most grotesque and silly gore you'll ever see as Fumito unleashed the stupidest-looking elder bairns yet on his fictional town and they ate the cast. Though I freely admit I had some huge laughs once I stopped trying to see this as anything other than a glorious debacle, including in the finale, on the whole it would be hard to overstate how much I hate this show. I hate it's bad writing, bad acting (by a good cast) sloppy animation and gratuitous CLAMP crossover. Most of all, though, I think I hate the fact that CLAMP actually wrote this shit with the idea that they were creating something of value. I hate the way they thought they could substitute fountains of blood for suspense and predictable cliché for plot. I hate that they thought anyone would be fooled by (or interested in) their utterly clumsy and telegraphed "misdirection". I'm insulted as an anime fan and a member of the human race that someone paid money to allow this atrocity to be made.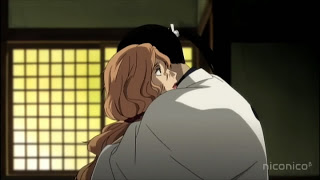 Will the "Blood" franchise survive the damage Blood-C has done to it? Hard to say. Having left its bloated corpse lying in a roadside ditch, CLAMP and I.G. still have the chance to stomp on it with their upcoming movie (which, I proudly announce, I will be neither watching or blogging). I'm not a huge fan of the franchise to the point where I'd be mortified if this travesty did kill it, but I would be saddened – it has its interesting and worthwhile qualities, and for the most part I genuinely liked Blood+. If the possibility exists that this ugliness might be forgotten and someone deigns to make a try at reviving the franchise, I'd be happy as long as CLAMP were not involved – I certainly don't think it deserves for this show to be its final epitaph.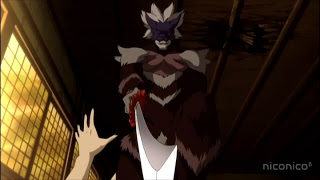 The only good news about this finale is that it is the finale, and I can wash my hands of this ugliness. I have nothing against you, CLAMP, and Production I.G. – well, I'm still a fan even if I can't say you're the best studio in the business anymore. But both of you – hang your heads in shame. Go away somewhere, a Buddhist retreat perhaps, and think long and hard on what you've done and how you might repent. Myself, I'm going to watch a few eps of Usagi Drop and try and drive the memories out of my brain.