Only three more eps and this will finally be over with. Wait, what's that you say – there's a movie too?!

Saya, it's safe to say, isn't a smashing success at protecting people. Whether she's supposed to be protecting them is another matter, but she isn't too good at protecting anyone. Everyone ends up dead, including the elder bairns. Whoever she made her promise to, there's not much protecting going on here.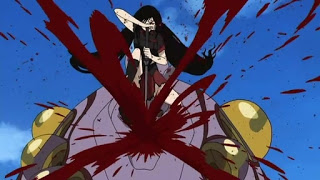 It would hard to recall a series that's been such a letdown – it was certainly the most anticipated series of the summer and with the pedigree, that isn't surprising. My uneasiness going in – "How this melange of talents, studios and styles will meld is anyone's guess" is how I put it in the Summer Preview – was a lot more prescient than I'd hoped. Simply put, this is a bad mix – CLAMP doesn't go with "Blood" and I.G.. There's no art to this series, so spark, no finesse. It operates on the extremes of stilted, stultifying dull dialogue and preposterously crude action. With no better tool at its disposal to spark a reaction than sheer volume of gore, desensitization sets in quickly. Once you've seen the buckets of blood a few times they're funny if anything, and certainly not shocking.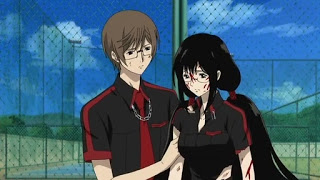 The other major problem is that the show is built on a wafer-thin conceit, the generalities of which were obvious immediately and the specifics of which CLAMP still refuses to reveal, even three-quarters of the way through the series. So even though we knew Saya's existence was a sham and she was living in a conspiracy from the beginning, that was dragged out for eight episodes as if it were a gripping mystery. What's worse, they've thrown Watanuki in a dog suit in to act as if he were the writer, stating obvious facts and smugly acting smarter than everyone in the audience. The only real mystery left is the depth of the conspiracy. and it's been obvious for a long time that it's deep. Is everyone in Saya's inner circle a stage prop – including all the slaughtered lambs in Class B? Or are they real people being sacrificed for the sake of the experiment that Saya is living out? With the entire class dead except the class rep and Tokizane, I suppose it's natural to wonder if they're on a different level of existence than their dead "classmates". Are they in on the joke, or has their turn to be dismembered just not come up yet? Tokizane does seem to be in opposition to Saya's father anyway, for what that's worth.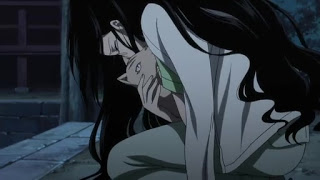 What irritates me perhaps most of all is that even the mild curiosity I have about the nature of the "bet" and Saya's true nature that's causing me to slog through the last few episodes probably won't be rewarded, because I doubt we'll get any answers when there's a movie to tease. Then it'll be the hard decision about whether that soupçon of interest is worth slogging through the movie, months and months after I'd managed to forget this series ever happened. My sincere hope is that this failed experiment doesn't kill the "Blood" franchise altogether, because while it isn't among the classics of anime it's an interesting mythology, and it does deserve better than that.