Usagi Drop is the unsung hero of the Summer season. It continues to go about it's business, quietly doing the emotional heavy lifting in its brilliant but understated way. In all aspects – animation, pacing, character development – this is a series that surprises with it's depth and dexterity in the absence of flash.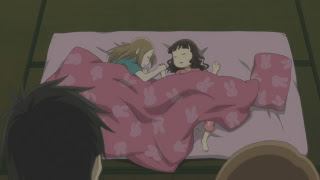 My concerns about the series have been pretty well put to rest. I give full credit to Kamei Kanta and Production I.G. for understanding that restraint was the key element in making a successful adaptation of this story. I've also been impressed with the visuals, which I think I'd dismissed too easily as "nice, but…" True, this isn't a jaw-droppingly expansive proposition live Seirei no Moribito or Ghost Hound were. But in terms of the little details – the facial expressions, the background movements, the coloring – there's some very special work going on here. If you can get a read on what's happening in an anime just by watching the faces, that's a good sign – and they really tell the tale here.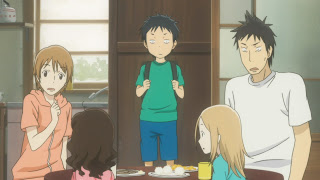 That's really a microcosm of how I feel about the series as a whole. It sneaks up on you by caring about the little things and letting the events speak for themselves most of the time. This episode, an exploration of Daikichi's cousin Haruko and her struggles in her marriage, provided a lot of insight not just into her character, but on all the central relationships in the series. I found this episode to be one of the saddest so far, though it wasn't because of sweeping strings or extended emotional outbursts. Sure, we briefly saw Haruko crying but for me, the saddest elements of the episode where listening to her talk as she was smiling. In describing her situation she said she felt that Reina and herself were the "only family" in her household. Everyone else was her enemy – including her husband. Again, the worst part for me is that she was smiling as she said it – how many women find themselves in a similar emotional cage, I wonder, and never speak it aloud.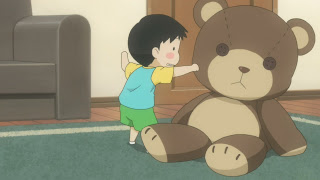 I could certainly relate to Haruko's wish that she could be a girl forever – the responsibilities of adulthood are a heavy burden even without a child, and I can only imagine their mass when there is one. And they come along with the slow breakdown of the bodies we all felt were invincible when we were kids. Though Haruka ends up going home, is here situation really going to be any different? Her husband came home from work at a decent hour once, but I suspect he'll go back to his old ways soon enough – and it will still be his family's house. That Haruko says she needs to "not feel anything" in order to get through her situation, that says it all – and it broke my heart. Dai-chan shows his GAR-ness yet again, of course, by offering himself as a resource for her whenever she needs it – just as he has for Kouki's mum (though there are obvious ulterior motives there).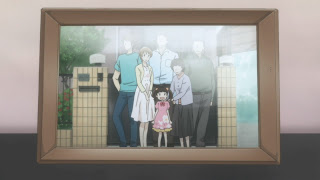 One very interesting moment in the episode happened when Kouki came over during breakfast, and Reina (nicely rebounding from her annoying introduction) and RIn were blithely discussing marriage, separation and divorce. The music was light, the girls were laughing and the adults were embarrassed – but watch Kouki's face during that scene, especially when the "D word" is mentioned. In that small bit of detail the series gives you hints of what might have happened between Kouki's parents, and a window into his vulnerable state of mind that belies his genki personality. It could easily be overlooked but for me, it's actually the most important part of the scene. Of course this interplay also serves to force Daikichi to think about what being a parent means, and what being married means too – all things it's easy enough not to worry too much about when you're a single man in his 30's. Of course he has feelings for Yutari – the scene in the grocery store proved that if anyone still doubted it – but even to himself, he's not comfortable thinking about what that might mean. I suppose part of me was disappointed to hear that Gotou is still married and out of the running, as I rather like her – but Yutari is clearly the front-runner here.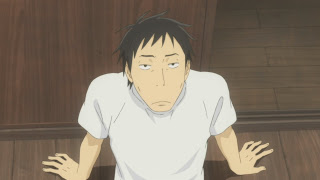 Lastly, I love how Usagi Drops makes little changes in the ED animation to reflect events in the episode, and even more how they're able to mine so much satisfaction out of the short postscripts that play out after. A shopping trip with Kouki and Yutari is interesting in and of itself, but I adored the tiny scene for both its mood and dialogue. Having two sisters I've lived that moment many times, and the natural alliance that forms between Daikichi and Kouki is timeless and universal. One other small impact of Haruko's visit is that it reminded us (and Daikichi) that he was the odd man out (literally), and so is Kouki. It's only natural that they should form a bond, and it's nice to see that happening in such a believable and charming way.