It's becoming increasingly clear to me after watching this special episode of Ikoku Meiro – this series just doesn't miss. Sometimes it's sublime and sometimes merely excellent, but it's always emotionally spot-on and quite profound.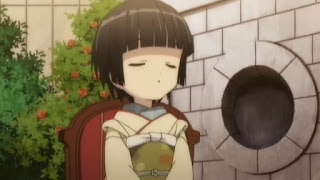 In no way is this any less than a "normal" episode of the series, except perhaps a small dip in animation quality – though it's hard to tell with a low-quality encode of it being all we have until the Blue-ray comes out. This is an absolutely wonderful little episode – profoundly moving, with a sweet and quietly powerful story that works on its own as well as casting light on the main characters of the series. It's also filled with some lovely acoustic guitar renditions of traditional Japanese songs, and some heartbreaking singing by Toyama Nao (Yune) and the actress portraying Anna (though only in the ED).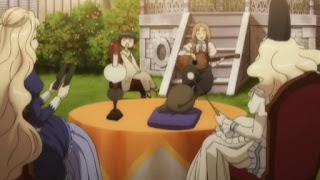 There's no doubt I would have viewed this episode differently if I'd actually seen it between episodes 4 and 5 when it was released, because the relationship between Claude and Camille is a rather important part of it, and much has happened since then in the TV episodes. But it probably carries more meaning now, knowing what we know. The story is elegant and simple – a street musician (a Bohemian or Gypsy) turns up in the Galerie playing Japanese songs on the guitar. Claude, firmly rooted in his "what a pill" persona, tells Yune that such folk are bad news and she needs to stay away. Eventually (as usual) he relents after seeing how nostalgic Yune is upon hearing the songs, and it turns out that the singer is Anna (Nakajima Megumi), a young woman whose grandfather was a musician who travelled to Japan to learn their music, and taught the songs to Anna.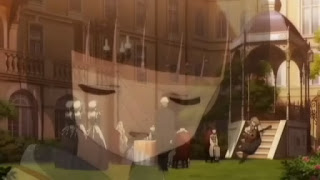 Well, Anna's story is a damn good one in and of itself – her grandfather fell in love with a Japanese girl, fathered a child with her (Anna's mother) but they could not be together for reasons not made entirely clear. But where the episode really excels in how this story reflects on Camille, Claude and Alice. Yune's memories of her older sister singing to her are beautiful and nostalgic, but when Camille hears Anna's tale of her grandparents, she becomes quite angry at the notion that they allowed distance (though Anna says it was much more than that) to separate them. At the time this was foreshadowing, of course, though the reasons are quite clear to us now – and indeed, during Yune's performance of the song Anna's Grandfather wrote and was later taught to Yune in Nagasaki, we see a flashback to Camille and Claude as happy children together in the gazebo. The depth of feeling she has for him is even more clear after seeing this episode than it was before – as is the degree to which she chafes under the restrictions her life places upon her.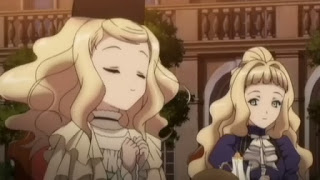 This all just works seamlessly and beautifully, right down to the brief cuts to the homeless little boy scrounging for garbage and furtively listening to Yune sing. This magical Paris as created by Satelight is both a warm and cold place, a city of loveliness and loneliness, kindness and cruelty. Claude is awkward and judgmental, but in the end he's standing outside the Galerie in the dark, silently waiting – pain and helplessness and hope written on his face – for Yune to come home and worrying that her nostalgia will make her want to return home. Anna's freedom is clearly appealing, especially to Camille – she can go where she will and play for whomever she wishes, whenever she wishes. But the boy has freedom too, though he's too hungry and cold and lonely to enjoy it. I'm struck by the completeness of the story here, how deep and profound the emotions are and how they all fit together perfectly into a larger whole. This is truly a wonderful series, and this special is in no way "extra" – it's integral to the story and can hold it's own with any anime I've seen this year.