A funny thing happened when Alice was introduced to this series. She came in with much fanfare, brashly and forcefully tried to take over every scene she was in, and generally made a spectacle of herself. But Alice was just the cover – her real impact was that Camille snuck into Ikoku Meiro, quietly in Alice's slipstream.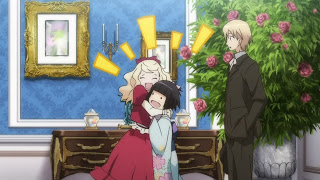 This was an episode that was all about explanations, it seems to me, and Claude and Oscar were rarely on-screen. As such it was not nearly so entertaining or moving as the best episodes of this series have been, but it was undeniably interesting. We learned a lot about not just both Blanche sisters but Claude Claudel, too, and their stories feel a lot more complicated than they did before this episode.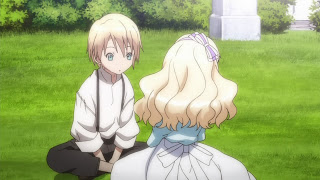 There's very little deception to Alice. She wears everything on her ruffled sleeve, and her idea of a clever plan is to boldly tell everyone exactly what she intends to do. Her exchange of fairy tales with Yune was entertaining, and her story about the mysterious imaginary friend from the East and exploring the world on a dragon's back did a lot to establish understanding, if not affection, for her character.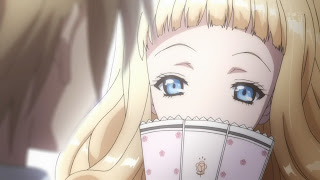 But given that Alice is such an open book, it's almost inevitable that Camille would be far, far more interesting as a character. Camille is a stark contrast to Alice in almost every facet of her nature. She's a riddle of layers upon layers, always (until this week) showing a regal and pleasing façade to the world to hide her true emotions. But her past with Claude is complicated, indeed. Oscar made allusions to it, under the metaphor of cats. Camille clearly had a relationship of duration and deep affection with Claude, and just as clearly realized he could never be her husband. Husbands, after all, should be chosen for the prosperity of the family – a fact she was only too happy to point out to Alice.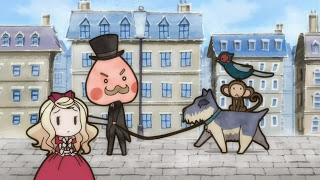 It's easy to see why Claude was taken in by Camille's charms – beautiful, seemingly kind, wealthy and exemplary in every way. It's just as easy to see why – being the prideful youth he is – Claude rebelled with his very soul at the notion of being a kept man. A stray cat, which Camille prefers to a house cat. Not only did this experience sour him on the Blanche family, but likely turned him into the angry young firebrand he is.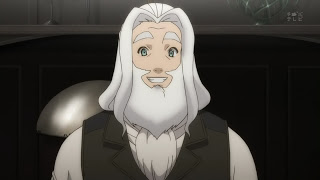 Easily the most compelling scene in the episode was the one between she and Yune in the playroom. Camille is full of surprises, and between this scene and the brief exchange she had with Claude she really showed her teeth this week. Camille's harshness to Yune was initially quite shocking for seeming so out-of-character, but it's less surprising upon reflection. This is obviously a strong young woman, far more so than her sister. Yet she also has every reason to be angry – she has to be mature and responsible enough for both Alice and herself, and she had to give up the boy she loved as part of that responsibility. There's a lot of envy in Camille – envy of Alice for her freedom and irresponsibility, and envy of Yune for being the new apple of Claude's eye.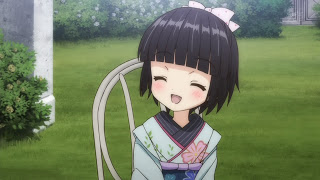 And there's the real takeaway. Yune is a threat to Camille, and how Camille ultimately responds is awfully important for the future of the story. After her stern rebuke to Yune was met with a grit and solidity which surprised her, Camille seemed to soften and become more the gracious loser – even helping Yune into Alice's old dress, the first Western clothes I've thought suited Yune. Yune falling into an apology feedback loop with Camille was hilarious, but that was a question of superficialities – Yune held her ground on substance, and perhaps without even realizing it consciously (thought Camille does) seems to have developed strong romantic feelings for Claude.