Ikoku Meiro is back at the head of the class after too very good episodes that were nevertheless not quite as superb as the first month's worth. Episode 7 is possibly the best anime episode of the season, and not even Natsume Yuujinchou and Usagi Drop – both of which I adore – instill the same level of empathy I feel with the characters here.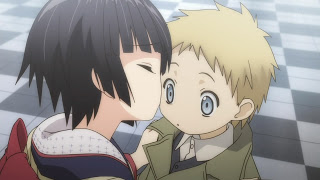 We got a little of everything that makes this such a great series this week, starting with another spot-on observation of the difference between Japanese and Western cultures – this time, regarding their attitudes towards children. Claude's statement that children "are wild animals with no cognitive abilities" was very typical of pre-20th Century Europe, as contrasts Yune's very Japanese belief that children are born innocent and pure of heart (and she's the living proof). Of course there cultural divides as presented in Ikoku Meiro are oversimplifications, as necessitated by the medium – but they're born of truth, and very revealing.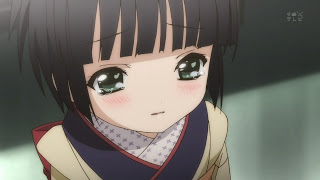 Yune really showed just what a remarkably strong little creature she is. It came as no surprise that she was compassionate towards the little boy (Gibu Yuko) who had stolen the candlestick – she's a kind and giving person – but she showed real steel in standing up to Claude about it. Yune showed what true empathy is with her simple statement that she wanted to feel just a little of the pain he felt as a homeless and abandoned child, something much more profound than a simple gift of a heel of bread. She even passed on the custom of the cheek kiss, having just learned from Alice that it was how Parisians showed people they felt close to them. In her way, she was trying to show the boy that he wasn't truly alone.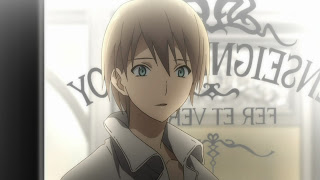 By contrast, this was the first time that I felt truly angry at Claude. In part it was for his undue harshness with Yune over the matter of the child, as he usually catches himself when he realizes that he's upset Yune even a little. But his words this time were unusually angry and persistent. Even more, it was his callous attitude towards the boy. For an idealist, Claude shows a shocking lack of empathy here – "I don't even have breadcrumbs for the likes of him!" Claude has so much anger in him for such a young man, and it belies his true kind nature – which his Grandfather sees clearly. And to Claude's credit, he always gets to the right place eventually, once the flush of anger has left him and he's had time to consider his true feelings rather than his impulses.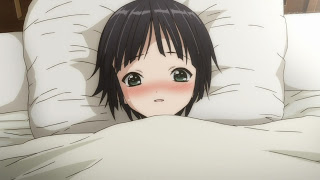 If Claude's fall was his deepest this week, his recovery was that much more spectacular. It was incredibly difficult for him to swallow his pride and go to Alice of all people for help. For anyone besides Yune and Oscar, he'd never have done it (including for himself) but this is yet another demonstration of just how much Yune has changed Claude. This is all part of Oscar's master plan, I'm sure of it – the old man is the unsung hero of this cast, but he's a deep soul and his influence is powerful, if subtle. His smile as he watched Claude fuss over Yune was one of the most genuine and joyful expressions I've seen on any anime character this year, proof that anyone can be beautiful on the outside if they're beautiful on the inside, no matter their age or gender.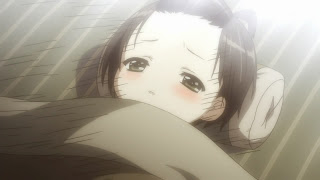 The entire storyline around Yune's illness sent up warning flags for me, because it can such a cliché in anime and so overwrought if executed in a clumsy manner. But as with almost everything else with Ikoku Meiro, it was brilliantly played here. This was a different time, of course, where there was really no such thing as a simple cold and any illness could be life-threatening. It was a perfect vehicle to bring Claude and Yune closer together, and to help Claude learn a little humility as regards his station in life. The abandoned boy's gift of the ragged flower as a gesture of thanks probably impacted Claude more than it did Yune, though she certainly felt the emotion behind the gesture. This was an excellent use of a supporting character to shed more light on the central cast.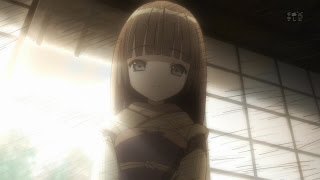 I can't praise this episode highly enough for its emotional power and the unerring truth of it's character interactions – it was absolutely wonderful, right up to the moment Claude kissed Yune and told her "In this big city of Paris, the three of us have only each other as family." That was exactly what Yune needed to hear, and only he could be the one to say it. I find myself I could wishing I could keep eavesdropping on the three of them forever – they're an absolute joy to spend time with.