While it probably says a lot when when you're watching an episode mostly to kill time while waiting to see if anything interesting happens in the preview, there were enough amusing moments scattered in this week's HanaIro to make it watchable.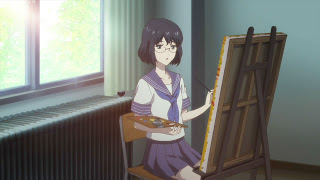 Yes, they managed to do it – pretty much an entire episode about omurice. While your pulse just quickened if you're a die-hard omelette rice otaku, for me it's a pretty thin premise to stretch for an episode, never mind the better part of two. But given that every episode in the second cour has been "about" subjects this trivial, the only telling question has been whether the trivia was entertaining. In that, I'd rank this episode about in the middle of the pack. It was slightly better than last week's, perhaps due to the presence of Junji Nishimura as director. His efforts as a scripter for this series have been hit or miss at best, but in this chair he knows what he's doing – as witness True Tears. In fact, Nishimura-san gives himself a little free plug with the Hiromi cameo at the train station, which was actually the highlight of the episode for me.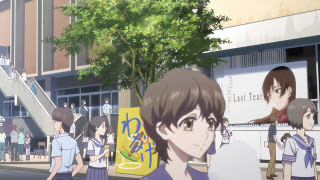 The course of events as they play out is pretty predictable. Ohana butts in as she always does, insisting she help out Minchi in the kitchen after her nastiness has chased away everyone else. But it's when Nakochi takes a leave of absence from her class's festival prep (even though she's on the committee) to help out that things actually get better. She shows Minchi how to make omurice in the style her little brother likes it – which is doable on a hot plate – and Minchi agrees to add it to the menu. Even more predictably, when Tohru shows up at the café he orders the omelette rice, naturally. Minchi decorates it with kethchup hearts, but he misses the point because Omurice Girl has already decorated her crush's rice the same way. Interesting to speculate what might have happened otherwise, as it was cooked by Minchi and served by Ohana.
The little cutaways throughout the episode to Nakochi interacting with her friend Eri (Kotbuki Minako) from the art club were interesting in that they felt so different from the rest of the episode. Maybe I'm just conditioned to see it because it's so prevalent in anime these days, but I could swear I was picking up a little yuri vibe between the two of them. Yuri or not, they provided a nice change-of-pace from Ohana's usual insanity and Minchi's usual snappishness with their quiet, very Japanese "zen garden" of a friendship. Nako even got painted (heh) though the resemblance was totally lost on me.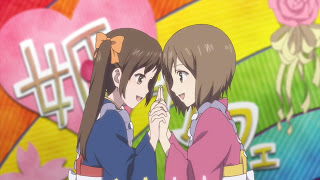 And then there was that preview, which did indeed prove the most interesting part of the episode. And depressing, given that next week looks like – you guessed it – a Takako episode. And not just that, a Takako-Enishi episode, with the two of them engaged to be married. Ack, episode 21 devoted to the first and third-most annoying (gotta save a place for Jiromaru) annoying characters on the show? Even two seconds of Takako in the preview is enough to instill dread. As a gesture of apology we also get a little teaser that Tohru confesses to Ohana, which would certainly liven things up to say the least. Given that HanaIro is the most trolling-est series going when it comes to previews, though, I'll assume that's a misdirection until proved otherwise, especially given the shot of Minchi grinning with uncharacteristic abandon.