Leave it to HanaIro to turn a trifle like a culture fest episode into a two-parter. No subject matter, it seems, is too trivial for this show to waste extended time with.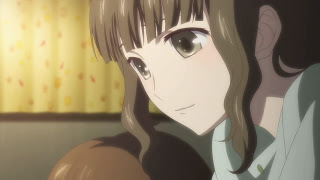 I find myself sympathizing with Minchi more and more as this series progresses. Not so much that I love the character, though she's OK for what she is. No, it's the fact that she seems to be the only one in the cast who realizes when people are behaving stupidly and has the common decency to be irritated by it. She's become my proxy on-screen as the series has descended into a pretty consistent run of mediocrity. How much more time could possibly be spent on bad slapstick, males acting like idiots and wistful depictions of some kind of Nirvana of schoolgirl idyll?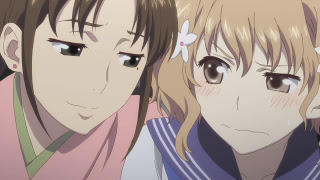 To be fair, this episode wasn't the worst of the time-wasting episodes on HanaIro by a fair stretch, although it wasn't as appealing as last week's. If I were to guess I think Mari Okada probably didn't write this one, as the eps she scripts personally – even if they're throwaways like last week – tend to be crisper and the humor a little sharper. There were at least a few moments of actual plot development this week, though they tended to be short-lived. There was a real hint that Tomoe has feelings for Enishi (for some reason). Minchi and Tohru didn't really develop but at least the subject was on the table, and we got to see some of Minchi's memorable facial expressions as she thought of Tohru attending her princess café at the festival. And there was Ohana's weird little dream about Kou being a maid right next to her, which is the first time he's been mentioned for at least a month.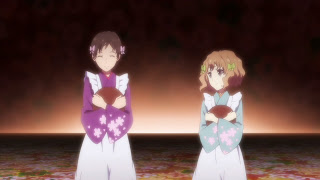 Other redeeming qualities were Yuina safely back to being her frivolous, fabulous self – "Keep the compliments coming!" – and Nako showing that last week's episode wasn't a complete one-off. I wouldn't say she's outgoing, but there were at least some attempts to overcome her social timidity, such as her commenting on Ren's eyebrow. Pretty thin gruel for one episode, never mind two. But I've mostly lost faith that this series is capable of any big ideas at this point, as it's been so long since anything of consequence has happened, so small victories are going to have to be enough.
Oh, well – at least the show remains pretty to look at – PA Works sure knows how to produce a visually stunning product.