This isn't new information, but it's new to me – Radio Kaikan Building is being demolished. Must've been the time machine crashing into the roof.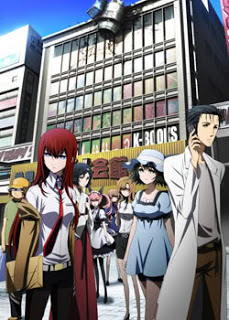 Many of you may know this place from
Steins;Gate
, but I count myself fortunate enough to have wandered its halls a few times. Built in 1953, this place has certainly
seen better days
. See video below (not me, BTW) – said halls are dank, cramped and smelly, the elevators minuscule and the halls narrow. But for me, this old place somehow exemplified Akihabara. Home to dozens of tiny hobbyist havens and anchors K-Books and Kotobukiya, it's where I bought my
Shinryaku Ika Musume
T-shirt and several of my doujin. There are pleasanter places in Akiba to shop, but none feel more authentic. It's no wonder S;G romanticized it the way they did.

A new Kaikan Building will be built to replace this one – 10 shiny earthquake-proof floors above ground and two below, to open in 2013-14. Most of the stores, including Kotobukiya and K-Books are temporarily relocating. I'm sure it'll be a nice place and full of great shops, but I'm glad I stopped by for a last visit when I was in Tokyo this April – though I had no idea of the impending closure, I spent my last afternoon in Japan browsing there before heading to Narita.
So long, Radio Kaikan – you'll always be the real Akiba to me. I hope Okarin, Makise, Mayushi and Daru send you out with a bang.