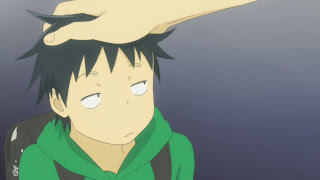 I've seen the same term applied to characters in two of my three favorite series this Summer – "annoying". The characters in question are Alice from
Ikoku Meiro
and Kouki from
Usagi Drop
. That got me thinking about just what makes a character work in any given series.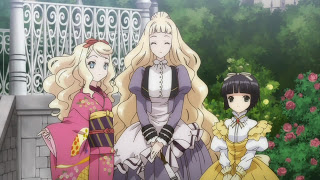 Seems to me that you can't look at a character in a vacuum, say "I like" or "I don't like" and get the whole picture. As regards Alice, the issue isn't so much that I don't care for the character or find her annoying – my concern is that I don't especially like the way she changes the dynamic of the series. Whenever Alice is on screen the show becomes a little more ordinary. I love the dynamic between Yune, Clause and Oscar – it feels so fresh and different. When Alice enters the picture, Ikoku Meiro becomes a much more traditional anime with traditional attempts at humor and conflict. Indeed, I think the best thing about Alice is that she brings older sister Camille into the mix – although I'm still not sure even Camille is vital to make this series work, and if she were, Alice would be strictly extra baggage. In short? I don't think the series needs her.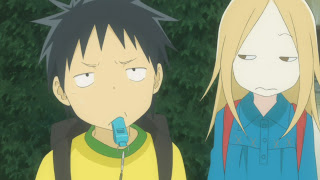 So what of Kouki? Where I could see where some would find him a bit much – he's hyperactive, mischievous and a bit bratty – I think he changes the dynamic of Usagi Drop in a positive way. As wonderful as Rin and Daikichi are together, if that's all the series was, I think they'd be a bit much after a while. All of the supporting cast is needed to frame their relationship and to provide a contrast to their scenes together, and Kouki contributes to that admirably. It's not just his relationship with Rin that works – he also adds an interesting dynamic with Daikichi, as the son of a single mother. And by extension, he brings his mother into the relationship loop, with all the interesting permutations attached to that. I think the series needs him.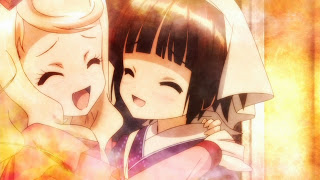 Now I'll admit, even in a vacuum I do like Kouki better than Alice. I find him hilarious and likeable in an impish way. Alice I'm more indifferent about – I think she's a fundamentally decent person who happens to present an obnoxious front to the world. What really matters isn't so much that, though, as the way each character impacts the fragile dynamic of their respective series – the way the cast interacts, and the overall tone of the show. For me, that's where Alice loses out, and Kouki is a big win.