I knew I was right not to like those twins…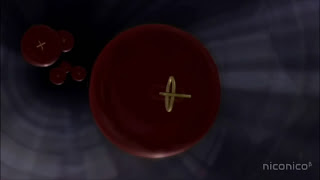 Blood-C certainly did everything to earn its title this week. The series certainly can't be faulted for shorting the audience with its namesake bodily fluid, though I feel it sometimes relies solely on sheer volume of gore to provide shock value rather than earning it the hard way. Nevertheless, this ep was a bloodbath of the highest order and there's no question it had an impact.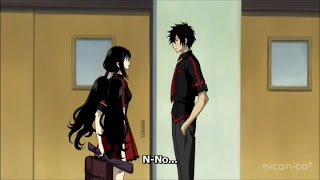 Certain suspected things and pretty much revealed as truths by this point. There's a massive conspiracy to use Saya for selfish – we don't know yet if ultimately worthy – purposes. Her "father" (Fujiawara-san, how could you?) and creepy Guimauve guy Fumito are certainly in on it – Daddy seems to be able to knock Saya unconscious at will, and Fumito is using the coffee to tranquilize, and perhaps control her. Class-rep guy is probably involved too, and clearly see's Tokizane as a threat. The real question is whether, in fact, everyone is involved – is the entire village and everyone in it a masquerade for Saya's benefit? Or is it simply a matter of conspiracy among a few select associates? Nono's nature may be a key to this question – if she's an Elder Bairn, it would seem the conspiracy runs very deep. Or was she simply a normal girl whose anger was manipulated by such a creature for its own benefit?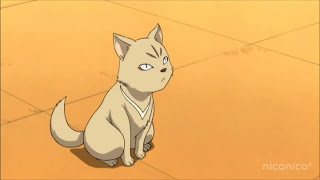 If Saya has any friends, it would appear that only Tokizane – seemingly targeted for the Haji role (or perhaps the Homura one) – and the weird fox/dog/cat are it. I won't swear to it yet, but they at least seem to be showing signs of wanting to bring her closer to the truth, whatever that may be. Now that the carnage has extended into Saya's inner circle it seems as if it would be increasingly difficult to keep her in the dark, and to keep a nature a secret from the rest of the village if they aren't in on the conspiracy. In every version of this story Saya has always been a tool manipulated by others for their own ends, so there's no reason to suspect anything different here. It looks as if this version took a longer and somewhat less interesting path to revealing that than the last one did.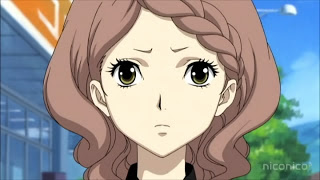 At the least, I'm glad that Blood-C seems to have rewarded those with enough patience by giving them something actually worth caring about. I still find the staging clumsy and I think the show definitely relies too much on gore to make an impact – it has the subtlety of a sledgehammer to the head in that department. I'm also not crazy about the look of the series – it appears washed out and the fight scenes still just look like imperfectly integrated CGI. But now that the weird and stilted pretense of the first few episodes has been cast aside it's at least interesting and has a certain amount of suspense. This episode was certainly the best so far, and its predecessor the second-best, so the trend is positive. There have been far too many missteps for the series to ever stake a claim as brilliant, but we've graduated to watchable, and hopefully we can build from there.