Baby steps, I suppose. Things are starting to get mildly interesting at last, though I'd be lying if I said I was wildly enthusiastic about this latest episode of Blood-C.



It's certainly been clear for a while that Saya was being gaslighted by the town, but whatever doubt there was about that has pretty much been wiped away now. Who's involved? Well, there are several possibilities. Could be everyone, could be Fumito and Sensei, could be Saya's father is involved too. Fumito is a lock – it's been obvious just about since the beginning, but it certainly looked less than coincidental that he showed up yes as Saya seemed on the verge of remembering more than she should have. Sensei seems like a lock, too, since she basically told a "ghost story" to the class about the compact between the humans and the Elder Bairns, though Saya fainted before you got to the punch line.


It's finally starting to look like "Blood" – sort of. Saya is having flashbacks that look a lot like Blood: The Last Vampire, with actual chiropterans and everything. Tokizane has been telegraphed for the Haji role since day one, and he's looking like the only one in town he might be on Saya's side. His reaction to Saya's swoon was…dramatic, to say the least. As for Daddy, he's obviously in possession of way more knowledge than he's sharing with his daughter, if indeed she's his daughter at all.
Just what is the covenant? That appears to be the key question, and we certainly don't know the answer just yet. Simplest solution would be something on the lines of "We give you "X" sacrifices per year, and you don't go after anyone else". I suspect it goes deeper than that. Saya is obviously not human and probably a chiropteran, the humans' attack dog against the Bairns. The Bairns appear to be a distinct creature from the chiropterans. And what does the cat/dog/fox know about all this?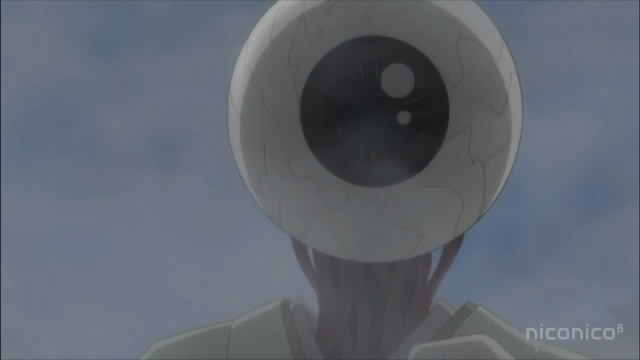 Again, in the end, it comes down to a question of whether the series has done enough to make you care. The monsters are getting more interesting, especially since they're talking. The trouble is finally finding Saya's inner circle, as one of the twins is under threat (about time). But there are two big obstacles here, the first of which being the weakness of every scene not directly related to fighting or the Bairns. The other is that it's taken nearly half of the show's run to get to the point where all of this feels like it has traction. I suppose if you've stuck around this long you'd be inclined to ride this out, but as far as I'm concerned the show has spent a fair among of goodwill with that weak start, to the point where I'm probably not going to be very tolerant of hiccups from here onward.