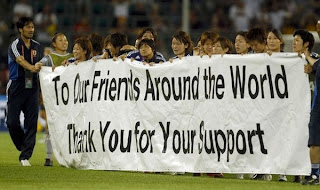 What an incredibly emotional day in sports.

First off, Darren Clarke winning the British Open. Clarkie is a truly beloved guy on both sides of the Atlantic. A 42 year-old ten years past his prime, who lost his wife to cancer five years ago and is raising two boys on his own. Just a regular guy who eats too much, loves Guinness too much and sneaks a smoke on the side during his round, but never loses his smile. Three different guys from Northern Ireland (1.8 million population) win majors in the last 13 months. Amazing. The fans adore Clarkie and it was an emotional thing to see the outpouring of love for him this weekend. Add Phil Mickelson making an electrifying charge, 40 MPH winds and you have an incredibly dramatic day.
And there there was Japan. Ganbare, Japan – I've been admiring your beautiful football for the entire World Cup. You stunned the host country and heavy favorite, Germany, and then dominated the second best side in Europe, Sweden. But could you really beat the US – in your first World Cup final, after never having beaten them in 25 matches?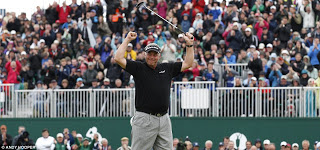 There was a sense that the Nadeshiko had destiny on their side. There's no need to belabor the point, but everyone knows what Japan has been through this year. Players on the national side lost homes, and friends in the 3/11 disaster, and one player's club team disbanded as a result of the damage. But the side came together, somehow, and the fans around the world came to respect and admire the way they played the game. They don't call them "Barcelona" for nothing – their possession game is the best in the women's game. Their coach, Sasaki Norio, was always upbeat and positive, laughing even in the final huddle before the PK shootout. It says something that even a devastated Hope Solo said "I wanted this, but if I would lose it to anybody, it would be Japan. I'm happy for them and they deserve it".
That said, the US had superior experience and an undefeated record in 25 US-Japan matches, and they dominated early. I give full credit to both sides for playing attacking football, and the result was a spectacular game. Japan was very fortunate to escape the first half unscathed, but the fact remains that they twice rallied from deficits in this game. They never, never give up – and it was their superb set-piece specialist Miyama who scored the first goal on a scrum. And their emotional leader, the Captain Sawa, who tied the gave on a fabulous flick off a superb corner by Miyama. Sawa has been a part of the national team for more than half her life, and she was the best player in the tournament. Finally, it was their underrated and fabulous defended, the 20-year old Kumegai, who sealed it with the last PK goal after their 5'6″ keeper, Kaihori, made a pair of superb saves.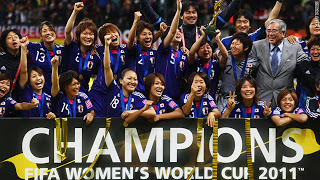 It's just impossible to be a sports fan and not be happy for the likes of Darren Clarke and this Japan team. What makes the football even more special is what a superb game it was by both teams – an effort both of them and their fans can genuinely be proud of. It was brilliant soccer, gender be damned – and I look forward to the stream of manga about girls soccer (and huge increase in participation by girls) we're sure to see in Japan. If you have a heart, this has to rank as one of the best sports days in living memory.