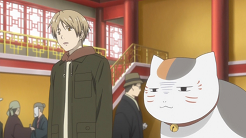 How is it that a series about loneliness can make me fool so good?
In terms of sheer affection, it's hard to find another anime that can rival Natsume Yuujinchou for me. There are better series out there – but few that inspire such a reservoir of good will. This is a series that can soften the hardest hearts, and melt the rest.
The show is based on an ongoing manga by Midorikawa Yuki. Solidly in the shoujo genre in terms of art and style, it incorporates elements of fantasy and even horror, on occasion. The premise is straightforward – a teenaged boy named Natsume Takeshi has a strange ability – he can see and interact with youkai spirits, the countless creatures who inhabit the Japanese countryside and imagination. An orphan, Natsume's ability has caused him to be ostracized from friends and passed from relative to relative, until he finally ends up at the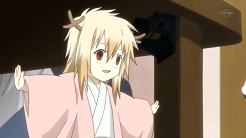 home of distant relatives Touko and Shigeru Fugiwara. From his grandmother Reiko, who shared his ability, Natsume has inherited the Book of Friends, a list of youkai names she'd taken by force as a teenager. This draws attention to Natsume, including that of Nyanko-sensei, an ayakashi named Madara who has taken the form of a "lucky cat" statue. Nyanko-sensei agrees to be Natsume's bodyguard in exchange for taking possession of the Book upon Natsume's death.
The art in the anime has been softened and brightened somewhat from the manga style, which is adapted quite literally in the OP and ED animation. Midorikawa's style, especially, is reminiscent of Earnest Shephard's illustrations for the original Winnie the Pooh books – with whom there is a certain spiritual connection, it seems to me. The series, while aired in two 13-episode cours separated by a year or so, nevertheless feels like one entity. Both OPs and EDs are superb, especially the first ED – which tended to begin as an accompaniment to the last few lines of dialogue of the episode. The BGM is wonderful too.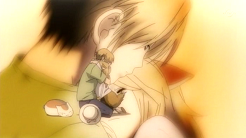 What really sells the series is the writing. Like Mushishi, another brilliant series to which it is often compared, Natsume Yuujinchou (especially in the first cour) is episodic – with Natsume and Nyanko-sensei the common thread that ties the episodes together. But where Mushishi had a detached, intellectual quality to it Natsume Yuujunchou is overtly emotional – it's warm to Mushishi's cool. The theme that ties all of these episodes together is loneliness. First and foremost, Natsume's. He's a boy who was never at home anywhere – shunned by his fellow children and relatives alike as a freak, and perhaps cursed. He has no one to share his world with, until fate brings him in contact with Nyanko-sensei. Madara is lonely, too, and enjoys Natsume's company – though he'd never admit it.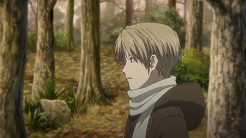 Where this story especially excels is in the introduction of one-off characters. As with Mushishi the episodic stories are often memorable, but the characters are more indelible here – the adorable kitsune in "The Little Fox's Hat", Kai, the lonely water God in the series finale, the tiny deity down to his last worshiper… Loneliness is their common thread, too. The worlds of human and youkai co-exist, often independent of each other, but both humans and youkai sometimes find each other in their loneliness, and for a brief moment in time there's a connection. But it's almost always ill-fated, and Natsume often finds himself in the role of reuniting these separated entities – and helping them find closure. And he, who straddles both the human and youkai worlds, is not really a part of either – even to the extent of never being able to tell the Fujiwaras the truth about himself.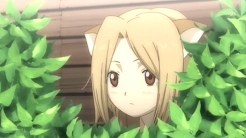 This is not a series for cynics, I suppose – though I'm a pretty cynical guy and if any series can break down cynicism, this one can. Very, very few series I've seen can engender such strong emotional reactions – the feelings in these stories are so genuine and so heartfelt that they seem universal. The series is funny, genuine, sometimes exciting, and almost always bittersweet – right to the brilliant conclusion in episode 26. I recommend it highly to anyone looking for a show that will make you feel, in a real and meaningful way. Even the sadness so frequently a part of the emotional palette here seems healthy and natural – an honest and elemental part of who we are as thinking, feeling creatures whose paths intersect for the briefest of moments in this life. If we're lucky, our lives can have a series of those moments that truly move us – and Natsume Yuujinchou is about those moments.