There haven't been many times in the last decade when I've said "That really reminded me of FLCL" – but that really reminded me of FLCL. The colors, the glossy look to the animation, and that cat – you could hardly get more Miyu Miyu than that.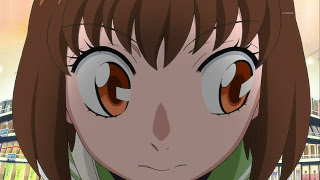 So, with that said, I'll stipulate for the record that this is a really interesting show. It's beautiful, the music is great, the visuals are incredibly creative and the penguins are adorable and hilarious. I'm in it for the long haul – but for me at least, there's still something missing. It may not be fair to compare any series with one of the greatest in anime history, but with FLCL there was an instant buy-in with the characters. As zany and as intellectually complex as it was, there was always a sense of what the writer was trying to say. So far, I'm not getting those things with Mawaru Penguin Drum.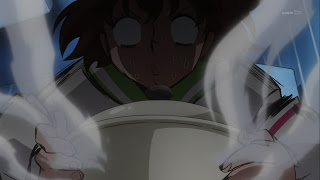 This episode, carrying over from #2, primarily focused on the crazed stalker and possible yandere Yuno Gasai Oginome Ringo. The notion of stalking the stalker was an interesting one, but the most memorable part of the excursion was watching the assistroids penguins doing their thing. They're damn funny, spraying bugs and getting stuck to mousetraps, though my favorite of the antics today was seeing Penguin #2 (my favorite) eat the jar of umeboshi and the face he made for the rest of the scene. As far as actually telling us anything meaningful about the characters or advancing the story, I didn't get much out of it.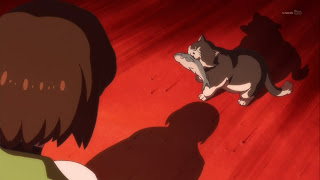 Ringo is sort of wavering between misunderstood troubled schoolgirl and downright psychotic. Clear Daddy issues, and Mommy is too busy to be much help, and her idea about bringing the curry to Tabuki's house because it was curry day might almost be called sweet. But the events after Tabuki's lover Yuri (Noto Mamiko) answered the door were downright scary – a normal person doesn't give themselves second-degree burns just to switch one curry pot for another. I smell further trouble ahead there.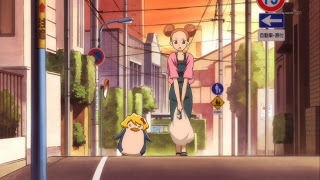 Another issue is that the survival strategy routine could get old pretty quickly. It's only three episodes in so I don't think it's a big issue yet, but the transformation sequence and subsequent speech didn't really bring anything new to the table this week, other than a chance for Ikuhara to slip in a few more sight gags. At some point, he's going to have to do some heavy lifting and give us some real story and character development if this show is going to the next level.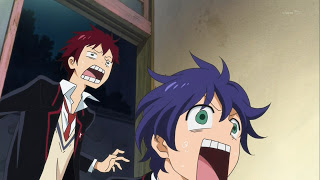 So we're no closer to knowing what the penguin drum is, and Ringo has been befriended by Himari and now appears to be part of the family circle. At this point, I guess we just have to wait and see where Ikuhara plans to take this story, and trust that it'll be an interesting place. So far at least the journey has been the best part, and it's been a damn good journey at that – there isn't another show out there than can touch this one for eye-catching backgrounds and clever visual humor. I'll stand by "fascinating mess" for now – it still feels that way to me, and that's good enough for to me to be a fan but not good enough that I won't be hoping for something more.