Well, at least they got Yuina back into the massage chair…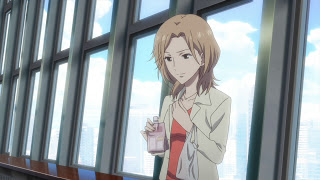 I'm feeling myself in a bad place with HanaIro right now. I really, really don't want to be the guy who carps every week on how disappointing this series is. But I've blogged it for four months, and seen just how good it can be (and how bad). So I'm not going to stop now, and I'll certainly hope for the best. But in a way, it was better in the beginning when it zagged between great and bloody awful than what the last few episodes have been – a sort of creeping mediocrity.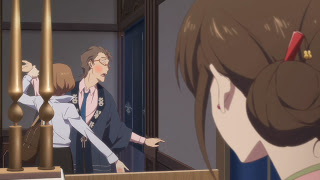 I would have if she hadn't
For starters, the whole movie thing – silly from the beginning anyway – was absolutely telegraphed. It was obviously going to be a scam, and the fact that any viewer paying attention knew that doesn't exactly paint Enishi and Takako in a good light. Which leads to point number two – just what were these eps supposed to make us feel about them? If they were supposed to be more sympathetic now, mission failed I'd say. Enishi is just pathetic altogether, and Takako might at best be said to be incrementally less annoying than she was before (putting her about on a par with shingles and Carrot Top).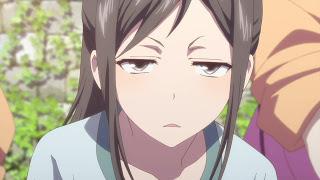 That pretty much says it all, Kid…
As it turned out, Satsuki was involved in that cliffhanger call – but she wasn't the subject, she was the caller. After trying and failing to warn her mother about the movie being a scam, she eventually calls Enishi (from the airport – hmmm) after the fact and gives him the details. Satsuki would do wonders for this show about now, since her relationship with the generations of her family sandwiching her is far more interesting than the subject matter of these last few eps. Plus, her acid personality would do wonders to cut through the aftertaste of the long, slow-mo shots of the girls frolicking that are supposed to make me feel warm and nostalgic.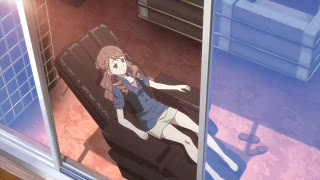 My sincere hope is that Mari Okada isn't directly involved in the production of the episodes where she's not credited as the writer (none since 11-13) because I'd like to think she's better than that. The last few have really featured lazy writing – weak slapstick, predictable plots, and "push-button" emotional manipulation to try and make the audience react rather than doing the heavy lifting to get there with character development.
It's the show's own fault, really. It had the temerity to start of well and periodically hit some wonderful dramatic highs, giving me a taste of just what it was capable of. If HanaIro had just been affably mediocre from the beginning a mediocre run of episodes wouldn't faze me. And the truly maddening thing is, the show could just as easily whip out a fantastic and utterly riveting final arc if it finally gets back to the story elements that really matter – Ohana, and her relationship with her mother and Kou. I don't dare stop watching now, just in case.