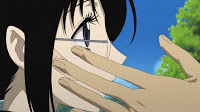 I'll be honest. If it weren't for the fact that this is a Blood series, and Production I.G., and Mizushima-sensei, and the reader's #1 choice in the Summer poll on this site, I think there's a pretty good chance I'd drop if after the second episode. Frankly, there just isn't a whole lot happening that interests me yet. Part of me wonders if this isn't one of those "it looked good on paper" scenarios.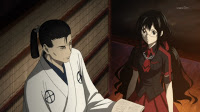 I'm not going to give up yet, not with the pedigree at work here. But I haven't found either the slice-of-life or action elements of this show compelling thus far, and it still looks surprisingly ordinary for an I.G. series to my eyes. This version of Saya is a change, that's for sure. She's so naive and clumsy that it almost appears that she's just plain dim-witted, frankly. I know she's a demon in combat, but her interactions with her classmates and her father paint her in a pretty unsympathetic light. I know she's supposed to be kawaii, and that's part of the twist – but it just isn't working for me.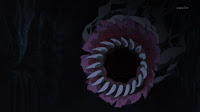 Also an issue is the action side of things. Frankly, considering this is the studio that brought us the spear fights in Seirei no Moribito (4 years ago, mind you) it's startling how uninteresting they play out visually. The CGI isn't especially well integrated, and the movements lack the fluidity I would expect from a high-caliber production. Sure, there's a lot of blood, and at least the design for this week's "Elder Bairn" (I guess that's what we're calling the Chiroptera here) was interesting, actually a little reminiscent of the Rarunga from Moribito. But especially given the absence of any context for these fights – it appears to basically be Saya going off into the wilderness to find and kill the Bairns one at a time – the sequences just don't elicit much of an emotional reaction.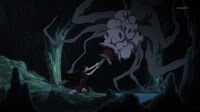 I know some will take criticism of this show hard or call it CLAMP-bashing, but that's not the issue for me. I like CLAMP a fair percentage of the time (while I do admit the noodle designs aren't favorites of mine) – it's just that, so far, Blood-C isn't a very good show. The pacing is odd, the supporting characters haven't really jumped off the screen and there's no emotional imperative behind the action. And worst of all, for me, Saya has been a singularly unimpressive heroine. Maybe this clumsy, dim-witted girl who sings annoying songs about laundry and sweets will win me over – and I surely hope that happens, as I would like nothing better than to become a fan of this show. So in deference to the studio, the director, and the mythology I'm going to stick with it for a while at least and hope that happens.