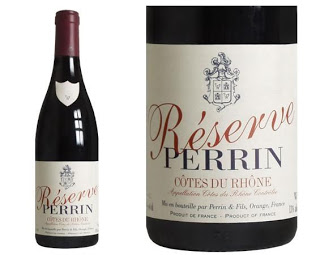 This one is my bargain of the year in wine so far in 2011 – a gem that really makes you wonder how Perrin & Fils is able to release a wine of this quality for this price. I paid $8.99 at Bevmo – which was a price match from K & L.
Perrin & Fils is the proprietor of Beaucastel, one of the top producers from Châteauneuf-du-Pape. This is their mass market bottling – a classic Rhone blend of 60% Grenache, 20% Syrah, 10% Mourvedre and 10% Cinsault that supposedly contains some juice from the elite Prebois vineyard.
What makes this wine so unusual in the price bracket is the level of complexity. A beautiful deep garnet in the glass, it carries the full Rhone nose dominated by pepper and spice, with hints of black cherry. While the wine drinks wonderfully now, it's by no means overly sweet or flabby – it has a balance of tannic backbone and acidity that lends it a perfect drinkability. There's so much in the glass – black fruits, herbs, just a hint of chocolate, licorice and smoke. The finish is sensationally long and nuanced, with spice continuing at the forefront.
This is so many things $9 wines aren't supposed to be. It's a real Rhone, a true bottle of French character for the price of a mediocre California Syrah. Due to it's complexity, length and balance it will pair nicely with traditional Rhone accompaniments, but can stand on it's own as a leisurely sipper that will reveal nuance with every pour and keep your interest. Highly recommended.
EDIT: I found this at Trader Joe's today for $6.99 – snapped up the last two bottles. $7 for this wine is really just flat-out crazy. Run, don't walk.