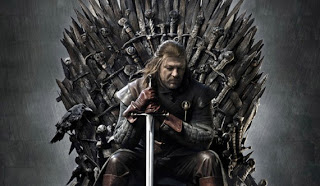 Another excellent episode of Game of Thrones this week, though quite the contrast to the last one.
While the first two eps, particularly the second, were highly entertaining in a bawdy, garish sort of soap-opera way, this one was sedate by comparison. If last week was a soap opera this had a bit of "Masterpiece Theatre" added to the mix. The pacing was more measured, the messy excesses of human emotion toned down, and the focus on the kind of underground intrigue and veiled speech that was hinted at earlier.
A couple of scenes stood out for me this week. First the moment when King Robert, his knight and eventually Jamie Lannister traded stories about their first "kill". While Robert (Mark Addy) was compelling as he recounted the ugly side of battle, what really stood out was the raw and inflamed nature of the loathing he feels for the Lannisters. Jamie is truly vile – this story is not especially subtle about who it's villains are – but the King clearly feels besieged by hordes of them in his own castle. It's no wonder he was so anxious to have Ned at his side.
The other outstanding moment for me was the introduction of Arya's swordfighting teacher, Syrio Forel. While there was just a brief "Inigo Montoya" moment when I heard him speak, he made quite an impact in his one scene. It says something about Ned – and his dim view of his current situation – that he allowed his daughter not only to keep her sword, but decided to train her in it's use.
Of course every scene involving Tyrion Lannister (Peter Dinklage) was memorable. He's the one character whose loyalties are the most opaque at this point, no less after the reveal that it was his dagger than was used in the attempt on Bran's (now awake, but crippled) life. He and Jon Snow appear to bond, as Jon realizes just how abandoned by his father he is with the Night's Watch. Will Tyrion heed the pleadings of the Watchmen for more help with winter coming? Is he actually working on his sister's behalf? We should soon know more, as he's headed down to King's Landing (via Winterfell) as the episode comes to an end.