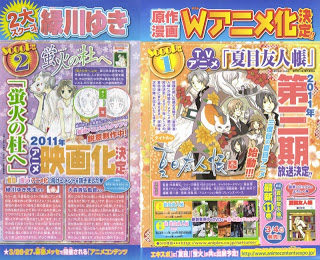 On the heels of the great news about Shinryaku Ika Musume's second season comes an even more exciting and long-awaited announcement: Natsume Yuujinchou will get a third season in 2011!
Readers of this blog know that this is one of my favorite series – in terms of pure emotional punch, few series can compare. You can read my series review if you want the details of why – but suffice to say there have been few series that I've loved more than this one over the last half-dozen years. It's a classic, and it'll be wonderful to see it continue. Even better, most of the original staff will be back – most critically series director Takahiro Omori. He's one of the best in the business and I would hate to see this adaptation in anyone else's hands.
Also announced was a movie adaptation of Natsume Yuujinchou mangaka Yuki Midorikawa's one-shot manga, Hotarubi no Mori e, which will also be produced by Brain's Base and directed by Omori-san. I don't know much about this one but it seems to be quite well-liked by her readers, so that should be interesting. Both of these projects will be on display at Anime Contents Expo in Chiba next month – and as I will be attending, you can look forward to a first-hand report from me!