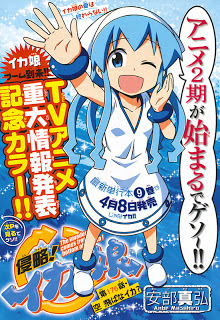 Let the invasion begin anew – Shinryaku Ika Musume's second season has been confirmed, ~degeso!
Anyone who followed this blog knows this was one of my favorites of 2010 – consistently funny, really smart and often quite emotionally involving. In a great year for comedy, this one held it's own with any of them. Given the strong BD/DVD sales and the foreshadowing in the finale (the Octopus Girl) it seemed likely that we were headed for this sooner or later – but it's still wonderful to see it confirmed, ~degeso.
ANN says no date has been set. It looks to me like the announcement in Shounen Champion says 4/8, which would place it as part of the Spring season lineup, but until I see that confirmed I'm not going to assume that. Whenever it happens, it can't be a day too soon for me.