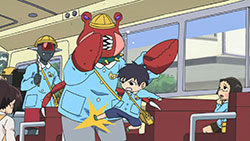 Gachi Kick!
If 2010 was the year of the comedy in anime, then Mitsudomoe was the comedy of the year. No other series managed to deliver as many huge laughs week after week, and no other show managed to dance so close to the cliff's edge without falling off. Despite mediocre ratings and DVD sales we were granted a second season – one suspects that decision was made before the show even aired – though it was to be an abbreviated 8-episode run. This was probably the winter series I was most looking forward to, and it delivered.
Any worries about the series losing its mojo can be put to rest, at least for one episode. As long as director Masahiko Ohta (Minami-ke) and team were back there was every reason to suppose Zouryouchuu would be another winner. And while the first episode was hilarious, it was a real departure from anything in the first season – a full-length "Serious Squad Gachi Rangers" episode complete with Gachi OP, Gachi ED, Gachi eyecatches and fake Gachi-preview by Yabe-chi. The only downside was less screen time for all our beloved regulars – only the Marui triplets make any appearance in the body of the episode (as themselves, anyway). But the result is an uproarious, spectacularly inappropriate send-up of the hero squad genre that was wrong on every possible level.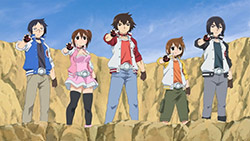 And really, it was so very wrong – even Hitoha was stunned (and furious) about how her Gachi Rangers had become Baka Rangers. Children dying everywhere, a perverted sidekick, an armed mob of townsfolk descending on the Rangers' "secret" coffee shop hideout for revenge – it was a riot of bad taste and satire, the magical combination of low-brow physical gags and razor-sharp high comedy that made the first season so successful. "Crabron" (Pinchy, pinchy!) may be the lamest monster ever, but even he couldn't hold a lameness candle to the Baka Gachi blowing up schoolrooms and buses full of kids and standing idly by while Crabron turned them into lifeless clusters of foam. Maybe the best part, though, was Hitoha's furious reaction at the end, both to the madness on screen and Mitsuba's quite sensible reaction to it. I loved the little details, too – how all of the Gachi characters were spins on the regulars, including Sojirou as the evil boss and Miku's little brother Ryuuta as Gachi Yellow.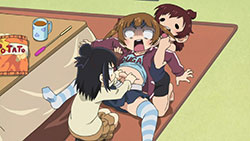 Feel our Gachi wrath!
This is really the return of an old friend for me, and I couldn't be happier. Mitsudomoe fans may not be numerous, but we're Gachi-rabid. I'll take my 8 episodes (and 1 DVD special) and be happy to have them, though I'll always wish for more. I don't know if Mitsudomoe will be the best comedy series for a second straight year, but if it isn't I suspect that means 2011 is going to be an amazing year.