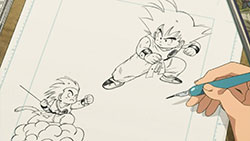 Bakuman begins it's "second season" with a truly excellent and (by its standards) fast-paced episode. We don't get a new OP song, but "Blue Bird" is accompanied by a new set of visuals. The ED is all-new, and while the song is pleasant enough I loved the animation sequence. It did a great job capturing what makes this series fun and heart-warming to watch.
An awful lot happened this week – I don't think there's any question that this was the most exciting episode of the series so far. Of primary import were two things – the confrontation between Hattori and the two boys, and the long-awaited meeting between Eiji Nizuma and those two. Let's tackle the second one first.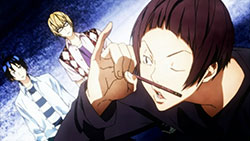 I've been hoping and praying that we'd be seeing Nizuma as something more than an absurd figure and a cartoon villain, and naturally I'm very pleased with developments this week. I kind of feel sorry for the kid, really – he's clearly a social outcast and though he never seemed bothered by it, there was something rather touching about his meeting with Masahiro and Takagi. Not only did he praise their manga "Money & Intelligence" but bemoaned his lack of friends at Jump Jack, and asked them to be his friends. It took the air out of their balloon, having set Eiji up as their great rival – but they were also treated to a stunning display of his genius as he drew two names in less than 30 minutes. He's a loose cannon and I'm sure a nightmare to edit – he ended up getting the Editor-in-Chief to serialize his manga "Crow" after deciding he liked it better than the already agreed-upon "Yellow Hit" – but truly a prodigy and a genius.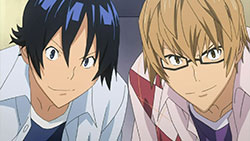 As for that drawing display, Hattori was only too happy to have our boys see it because he – quite rightly in my opinion – is trying to convince them to do something true to their talent and not try and do a mainstream battle manga. Masahiro is being a real jackass in his insistence on trying to go mainstream to satisfy his selfish desire to keep his pact with Azuki. But Hattori dispelled the doubts I was beginning to have about him – he does indeed seem to have the boys interests ahead of his rivalry with Eiji's editor. He actually showed some real fire and temper this week, but they weren't convinced – Masahiro seems to have gotten Takagi to completely drink the Kool-aid on this one. They end up agreeing on a six-month "bet" of sorts, the results of which I'll be more than anxious to see play out.
There was other good and interesting stuff this week – the introduction of a couple of new editor characters and a couple of put-upon assistants humiliated at the prospect of working for an eccentric 11th-grader. Takagi's "research", which was basically being beaten up by Miyoshi, was hilarious. But this one was really about the events at the "Jack" offices, and the start of a fascinating relationship between Eiji and out heroes – and a new step in their relationship with Hattori.