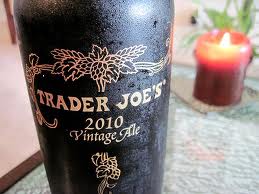 A nice gustatory tradition is the Trader Joe's Vintage beers, a part of the holiday beer craze that's taken off in popularity over the last 20 years or so. TJ's has these beers made for them by Unibroue, the Quebec brewery responsible for a rather excellent line of Belgian-styled ales, among others. They sell for $4.99 and come in a corked 25 oz. bottle suitable for aging.
This year's edition leaves no doubt whatsoever that it's a holiday beer. Coming in at 9% ABV it pours a dark caramel color, with a luxurious tan head that quickly settles into a tight, thin sheen of bubbles. If you like spiced beers, this should be right up your street – this one is complex and hard to pin down. I got Szechuan peppercorn, but not in the numbing sense – those berries have a piney taste to me that jumps out here. Some would probably get juniper, cedar or even mint. There's an almost medicinal quality to the beer. Lots of clove, allspice and cinnamon is present in the nose and on the palate.
For such a strong beer, there's not much heat and it drinks amazingly smoothly. I could easily see this one aging well, as the spices are really forward at the moment. I love spiced beers – some of my all-time favorites have been the more heavily spiced editions of the Anchor "Our Special Ale". I think a few months (or longer) in the cellar would go a long way to smooth out the flavors in this one and deliver a more harmonious final product. That said, it's one of the most complex and interesting beers you're likely to find and should be an interesting food-pairing candidate.