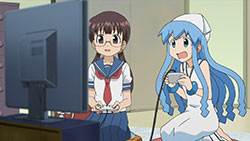 "Maybe so! Good animation! All free! See you!"
We're awfully lucky to have as many solid comedies this season as we do, but for my money Shinryaku Ika Musume is the best of them. It fearlessly goes into realms of extreme weirdness without a moment's hesitation, yet never loses the lovable essence of its characters. Especially, of course, Ika-chan.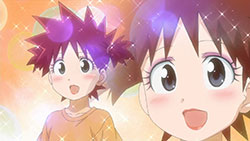 Our first episode stems from a game of "Ding-dong Ditch" – that's what we called it anyway – gone badly wrong. After being goaded into playing by Takeru and his sculptor-dad friend, Ika is forced to pretend she was looking for Kiyomi, the daughter of the neighbor whose bell she rang. Turns out the neighbor knows Chizuru but of course, Ika doesn't know Kiyomi at all. That doesn't stop her from the desperate charade that she launches in an attempt to avoid Chizuru's chilling wrath, but Kiyomi ends up being a very nice girl who Ika invites over to play. Of course she convinces herself that Chizuru will be furious that she invited a friend without asking, while in reality Chizuru and Eiko are merely thrilled she made a friend. Any sketch that focuses on Ika-chan's hyperactive imagination is a punched ticket to hilarity.
Next up we get a brilliant riff on makeup, rife with all sorts of bizarre gags. This is the sort of social commentary this show quietly excels at – the bits with all the various makeup "styles" (some bordering on cosplay) rip holes through the silliness humans are willing to extend themselves to in order to look like someone they aren't. This ep ends with Ika uses permanent markers to decorate her face to look something like a cross between a Maori warrior and a Mexican professional wrestler, and with Takeru hilariously winning the hearts of the entire cast by using the makeup kit (and a rubber band) to go into trap mode.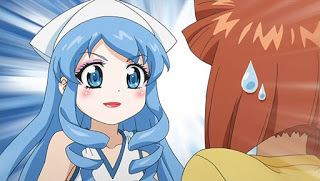 Finally, Cindy and the Three Idiots are back. I enjoyed them the first time, but the Idiots are officially full-on genius as of this episode. Their Engrish and mangled Japanese were almost as hilarious as "Sketch Book" Kate's, and their bumbling attempts to use a "Dignity Ray" on Ika are beyond absurd. Cindy and Sanae face off with each other in a race to be dominated by Ika-chan, and she – the "normal" one in this sketch – finally dumps them in the ocean to get a break from the depravity. After Lemon is destroyed by the Idiots ray we get a taste of Chizuru in full-on rage mode, which terrifies Nagisa so badly she realizes Ika may not be the real threat.
You had some nice character comedy in the first sketch, "Mitsudomoe"-style misunderstandings and satire in the second, and full-on slapstick in the third. I've said if before, but any comedy that can so dexterously move between styles like that is a rare treasure indeed. Can we please have a second season announcement already?