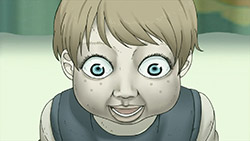 While the penultimate episode of Shinryaki Ika Musume wasn't the funniest, it did bring home a couple of the elements that make this such an unusual comedy.
First of all, this show does the creepy factor really well. Usually it's Sanae and her bizarre loli-S & M fetishism, and we had the big scary Ika head. This time it's one of Eiko's old dolls, and it's one of the scariest dolls this side of Chucky. Part of a pair that were popular during her childhood named "Johnny & Depp" (Johnny is the girl) this little demon really toys with Ika's psyche. It talks, it turns itself around, and it pines for it's old lover Johnny. Eventually even Eiko and Sanae (surprisingly low-key this week, BTW) get the creeps.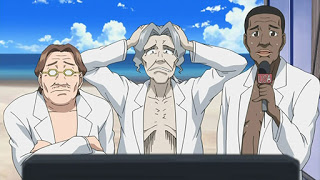 Another interesting thing about this show is the way it can throw complete randomness at you and never really bothers to explain it. No show I can remember mines as much humor from the quietly absurd – Ika Musume will show you an image like the Depp doll and just let the inherent insanity wash over you without trying to oversell it. Of course, the whole premise of the series is basic absurdity with little explanation so it makes sense that the show would be good at it. Anytime you get Cindy and the Three Idiots you're sure to get some absurdity, and this week was no exception as they've convinced themselves that Chizuru is an alien. But they have a nice absurd cameo in the third act, too.
That third act involved the siblings and Ika climbing the local mountain, an act which Ika sees as utterly pointless. But Chizuru isn't letting her out of it, and the four of them set off up the peak and the stage is set for yet more absurdity. This time, a parade of animals – squirrels, monkey, bear and finally king cobra – king cobra? – assault Ika to munch on her tentacles. That was the most LOL moment of the ep for me, especially when the snake showed up. Seriously – a king cobra in Japan? Poor Ika proved no match for it, alas. She also proved no match for her own echo, engaging in a heated shouting match with it from the top of the peak in another inspired comedic touch and a reminder once again that Ika isn't like the rest of us just yet.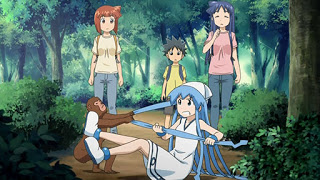 I seriously hope we get another season of this show, because there's enough manga material and the characters are nowhere near tapped out. While ratings are so-so – this is a 245 AM show after all – I suspected the DVD sales might be good based on the sheer vehemence of the fans that were watching the show. And it looks as if I may have been right. This is obviously a good sign, as DVD sales are where most of the money comes from. Obviously I'm not going to start celebrating, but based on some of the series that have gotten sequels the last few seasons, Ika Musume would seem to be a strong and logical candidate.