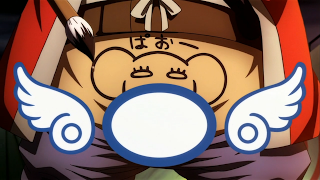 This isn't the easiest series in the world to blog, really. It's mostly just outright silliness that you have to watch to appreciate.
Seems to me that Tomoki is spending more time in chibi form this season, and this episode was no exception. This week's excuse for lunacy is a snowball fight, organized by the Prez, with her as the general of the girls team and Tomoki (against his will) the general of the boys. What follows plays as a bit of a homage to Sengoku Basara, with Tomoki playing the Oda Nobunaga role. Naturally his motivation is to be able to have his way with the losing team – the Prez has no difficulty pushing his buttons – and his strategy is to take out Sohara first, which pays off with disastrous and hilarious results later that play like a scene from "Ghostbusters".
The "serious" side of the episode involves Astraea, still under orders from her master in the Synapse to off Tomoki. Free will and the slavery of the Angeloids are the obvious theme underpinning the series this season, and Astraea is this season's Nymph – and given the nature of this show, no doubt she'll be redeemed in the end and be a part of Tomo-chan's harem (if Sohara doesn't kill him first). Along the way will be lots of service and sex, and a new high-quality ED every week. Heck, we may even get an insert song like we did this week – the "Reject Song" of the socially outcast, girlfriend-free boys.