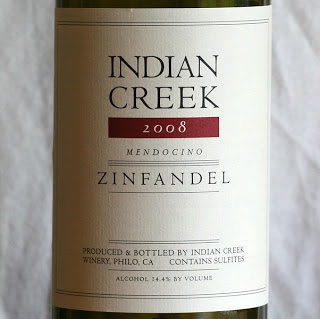 This is the second of the three bottle sampler I picked up from Navarro – their "fire sale" offer that resulted from the wildfire-influenced 2008 vintage.
As with the "Mendocino" Pinot I reviewed earlier, I found the much-discussed smoky influence more of a suggestion than a command with this one. A combination of Lake County and Russian River fruit, this Zin is a veritable Shirley Temple at "only" 14.4% alcohol. And it carries the alcohol well – there's no heat here. Zinfandel is something of a chameleon, capable of presenting many different profiles depending on where it's sourced and the intentions (and skills) of the winemaker. I've never considered Zin to be one of the specialties of the house at Navarro, but anything Jim Klein puts his hand to is worth serious consideration.
The wine pours garnet red in the glass, with a bouquet primarily of cherry with hints of vanilla. This is a very fruit-forward Zin – I don't get a lot of spice or brown sugar here. You hear "jammy" associated with Zinfandels of the fruit-forward school and I suppose it applies here, but it's a fairly bright and crisp wine, not cloying. What I don't get here is a lot of complexity – perhaps due to the burlier juice the smoke is even less noticeable on the palate than with the Pinot. There's some vanilla but really, this is about red fruit – pleasant enough but certainly not memorable. There's a very subtle hint of bramble that pairs well with the suggestion of wood smoke but I wish both were more prevalent – they would give the wine a little more punch and depth. As is, with very soft tannins and that pronounced fruit it's pleasant and straightforward – a decent wine for $10 but not a Navarro classic or a steal at that price.