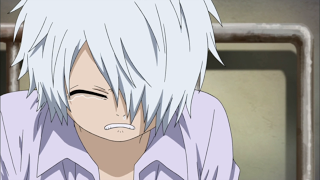 The show may have a new title, but the important thing stays the same – Lag is still a major crybaby.
In fact, there are loads of tears in this one – not just from Lag but Sylvette, too. But the little miracle of Letter Bee is that it doesn't matter – sure, this is extreme melodrama but it feels well-earned. How can you not feel for Lag? More relevant, I suppose – if you don't, this show is definitely not for you.
The other constant with Letter Bee is the backgrounds – they're drop-dead gorgeous once again. This wonderful land of eternal twilight is so photogenic – it just looks great on screen.
Plot-wise, this is a continuation of S1 in a literal sense. The hook is Gauche – Lag has found him, but he's calling himself "Noir" now and appears to have no memory of Lag or Sylvette. Moreover, he's working as a Marauder – a gang of thieves who prey on Letter Bees and may in fact be part of the shady anti-government operation we heard about last season. And the Master appears to know about Gauche's situation, as well – hmmm… Our cliffhanger this week is Niche. She let Lag be injured by Gauche/Noir, and got a verbal shellacking from Gauche's dingo, Roda, for it. In the end she leaves her boxers at Sylvette's doorstep with the unforgettable message, "I'm no longer fit to wear your underwear, Lag." And next week's unforgettable title? "Bread and Underwear".