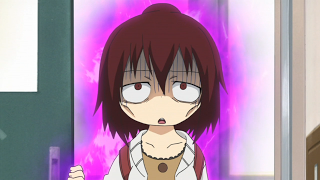 Mitsudomoe ends as it's been running for the last two months – with a genuinely hilarious episode that showcases everything that makes this series great.
Sight gags join misunderstandings at the heart of this episode, which starts with the seemingly indestructible Futaba felled by a vicious cold. She arrives at school looking so wasted that Chiba mistakes her for Hitoha. Not only that, so does Nipples – which sets Hitoha off on a spiral of despair. Futaba manages to pass her cold off to Hitoha and return rejuvenated in time for gym – but Hitoha emerges from the nurse's office looking uber-moe' and turning all the boys' heads. Next is a rather low-key sequence with the girls wanting to adopt a stray cat they've been feeding (Mitusba denying all interest, of course, though she loves the cat). After Soujirou agre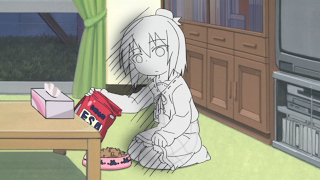 es the girls stop to pick up the cat after school, only to discover it's gone. The highlight of the sequence is a dialogue-free scene with a devastated Hitoha pouring cat food into a dish, over and over – prompting the ever-conscientious Mitsuba to convince Futaba to impersonate a cat. Naturally, this goes disastrously wrong…
The series ends as it starts for Yabechi – badly. First he sees his life mocked on television in a truly ingenious musical scene. This wouldn't be Mitsudomoe without misunderstandings and this time, Soujirou mistakes Yabe – over for a teacher visit – for a pedo because he's engaged in some heavy petting with the cat. The entire sequence is so wrong, yet so right – and when Yabechi mistakes Soujirou for a burglar we're off to the races. The concluding sketch involves two free "Tokyo Domeland" tickets Mitusba wins in a lottery ("My era is starting!"). Both Futaba and Hitoha want to go, surprisingly in Hitoha's case – but they have Gachi events! Naturally Mitsuba's too proud to admit she really wants to go and too much the good sister to take a spot, so she pretends she has plans so her sisters can go. As it happens the tickets were for 2 people each, so Daddy can come along after all – except Futaba thinks Mitsuba really ha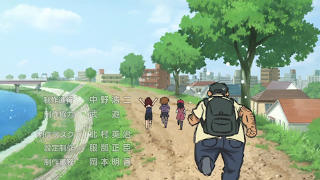 s plans so she invites Shin-can (serious crush there). We get an unplugged version of the ED with Mitsuba alone and bereft, but in a heartwarming twist Soujirou has bought another ticket – so Mitsuba can come after all and off they go to meet Futaba's future boyfriend and have loads of Gachi fun.
A great end to a great series – or if not an end, a hiatus. In three months Mitsudomoe will be back (huzzah!) but with only 8 new eps (boo!). Until then, it could be some serious comedy withdrawal.