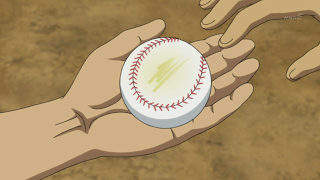 Ah, the return of the nut-cracking cliffhanger – yet another Major specialty. I thought for a moment that we might get a resolution to the one-game playoff in episode 22, but it looks like we're headed for another Wold-Cup style extra-innings marathon.
The game itself continues to be a string of unlikely and even bizarre baseball occurrences – a triple play. Foul ball of the pitching rubber. Disputed home run (by Keene, again) off the foul pole. As for Goro's pitching, he starts out obviously rusty – throwing 92 and loading the based with two hits and a walk before the aforementioned triple-play. But he roars to life in the ninth, striking out the side and hitting 100 on the gun, showing no ill effects from his circulation disorder – which the eagle-eyed Keene has noticed. Despite threatening Goro with selling him out to the coach, he agrees to let Goro pitch until he allows a baserunner.
Not for the first time in this series, we see everything you love and hate about Goro in the same action. He truly fears no physical pain, values competing above all else and he'll do anything for the team. But at the same time, as a 19 year-old with unlimited talent he's putting his career on the line by hiding his injury. He did it in Little League, he did it in High School, and he's doing it as a pro. How you feel about this series might just come down to how you feel about Goro's decisions, both now and when he was a little boy who threw right-handed. He's truly a heroic figure, but also a tragic one – and I find myself rooting for Indiana to lose so he can get his arm treated once and for all.
But no, it looks as if Mitsuda is going to carry on the torture – by the PV we're apparently in for a long, scary ride.