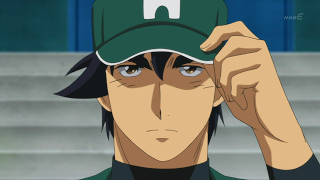 There are many true things that can be said about Major, but one of them is certainly this – if you're looking for subtlety you're looking in the wrong place most of the time. This is a baseball series about big, grand (and often unlikely) events, executed by big, grand and usually unlikely athletes – most frequently our hero Goro. And a grand character certainly needs a grand entrance. Fortunately, that's one of Goro's specialties and 151 didn't disappoint.
I should have known Takuya Mitsuda wouldn't give us a tightly played pitcher's duel in what figures to be the final game of this series. No, the Hornets – in a fashion I, as a Cubs fan can relate to – seem to crumble under the pressure of their one-game playoff and surrender 8 runs to the Coyotes in the fifth inning. Seemingly insurmountable, and the fans seem ready to pack it in when relief pitcher Clark gets into a beanball war in the 6th over a stolen base with an 8-run lead. Hell, even Shigeno-san falls asleep and Toshi gives up and goes to practice. But in a grand series you need grand speeches, and Mitsuda has always been good for those. We get one from the chubby Hornet's fan lady, and another from Watts, about how "it ain't over till it's over" and the need to fight to the end for the fans. Well, once Watts apparently rogers his hip once and for all diving for an attempted squeeze bunt, the Hornets scrape together 6 runs in the seventh to make it a game. And who should the call to the bullpen go to, but our hero? Cue, grand entrance!
It'll be very interesting to see how this plays out. If the Hornets win, we're faced with the prospect of them playing the postseason without Goro – seemingly a dramatic impossibility. But how can Goro continue to pitch past this one game, given how clearly the seriousness of his injury has been spelled out? A Hornets' loss would seem like a no-no too, an anticlimax. And we have Gibson and Junior out there waiting, too. Plus, by the look of the PV, some other drama awaits as well in those last two innings.
I confess, I'm not at all sure Mitsuda-san will write his way out of this trap – seems like a deep hole he's dug for himself. But as with Major at its best, we have a ton of suspense and a great cliffhanger, so I'm seriously keen to find out.