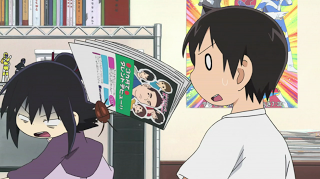 Another winner for Mitsudomoe this week, with all of the sketches working to solid comic effect or better. If Futaba wasn't my favorite character already, her performance this week probably cemented it. Even if the rest of the ep had sucked (it didn't) her oppai song at the end would have stamped it a classic.
I love the continuity we see in this series, where each episodic edition flows seamlessly from the last. I was a bit disappointed not to see more development on the Yabe-chi x Hitoha front after the misunderstanding in last week's closing sketch, but we were treated to new extensions of the Gachi Rangers and Nipples storylines. Hitoha, who also had a strong week, finally confessed to Yabe-chi – about her love of Gachi Rangers – during a visit with Futaba to kill cockroaches. Alas, he didn't believe her – and a string of misunderstandings around said cockroaches cements his belief. Misunderstandings also nearly cost Yabe-chi his job and get him branded as a perv. The rest of the bits were a bit more situation-oriented this week, from Mitsuba and Hitoha being locked in the shed (they seem to spend a lot of time locked in sheds) to Futaba's hilarious adventures with a lost little boy, including the aforementioned song. Futaba remains lovably clueless, causing mas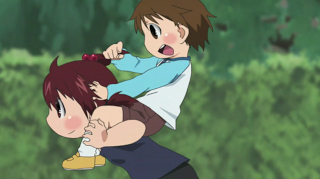 sive destruction all around without meaning to but skating by cleanly herself.
Next week looks like an interesting ep, with the title "Santa Claus is my Sweetheart". From the PV it appears that the boys and Soujirou will be back in the spotlight again. I never know exactly what to expect from Mitsudomoe, but for the last month or so each ep has been a reliable source of big laughs. The show has found the perfect balance of nastiness and genuine heart, and the humor is in the zone. All of the characters are well-established and the show has a huge choice of go-to sources for hilarity. I'm only sorry this is stopping after 13 eps – there's enough potential material here to power two cours easily.