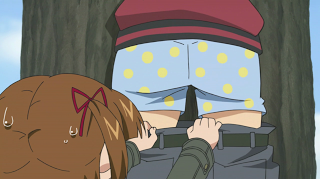 I know the first two episodes of this series were the weakest, but I feel badly for anyone who didn't stick it out. If you did, you've been amply rewarded – Mitsudomoe made a slow build to hilarious through 8 episodes, and with #9 it ascended into high art.
I'm not sure which line was the funniest of the episode for me. It might have been Chiba (complete with an "erection" T-shirt) saying "I practice all the time" to Hitoha in the first skit. Or perhaps it was Futaba's "Shin-chan, you gotta nail me in the butt again sometime – it felt great!" in the last.
But you know, that wasn't even the highlight of the episode for me. That would have to be the skit with Futaba, Mitsuba and the barrel, set to the Mozart C-Major Piano Sonata, K.545. It was – and yes, I'm really saying this – worthy of Charlie Chaplin. And this episode marked another milestone for a show that had already proved it could be flat-out hilarious. Between the barrel sketch, Futaba's voyage through the air to Strauss' "Blue Danube Waltz" from 2001 – a Space Odyssey to the "Yabechin's Room" sketch, Mitsudomoe went high-concept this week. And amazingly, pulled it off beautifully without losing one atom of hilarity in the process.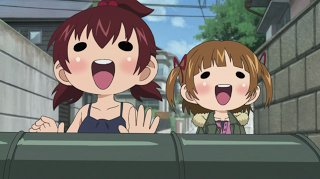 I think what's most remarkable about this series to me is that it has now moved deftly between so many different styles of humor and managed to succeed across the board. Misunderstanding, situation comedy, slapstick, sexual innuendo and wordplay, farce, and parody – and all of them were present in episode 9 alone. Poor Shin-chan can't shake the "perv" label, Chiba keeps getting pantsed and when he finally got to try his signature "panty-snatch" it was on Yabe-chin. Futaba continues to provide abject misery and grievous bodily harm to Mitsuba, and Hitoha continued to futilely try to bond over Gachi Rangers, only to fall short once again. The themes presented in previous eps continue to be developed and expanded upon, and the situations become increasingly more bizarre, but it all stays true to character.
I've said it before – good comedy is really, really hard to pull off. The fact that Mitsudomoe is able to pull off so many different kinds of comedy is a little miracle, and not something I expected after the first two episodes. No show in months – maybe years – has made me laugh as hard, and I've grown to really like all of the characters. I wish this series was going to be 52 episodes – I don't want to say goodbye in a few weeks.